THE GUN ROOM

See full-sized image.
Status:
In Stock as of December 3, 2023
Category: Handguns
Brand: CZ - Dan Wesson
Keywords: 9mm, CZ, CZ-75, CZ75, Green, Racing, Sport, Sports, Tactical, TS2
Manufacturer SKU: 91224 (Manufacturer Link)
Caliber: 9mm
Number of rounds: 20+1
Barrel length: 5.2"
Weight: 49 oz.
Features: IPSC/USPSA Ready. Adjustable Sights. Target trigger.
Condition: New In Box!
Price: $1,969 credit, $1,930 cash! $50 Shipping UPS Air

Contact us about this product.
TARGET OR COMPETITION READY OUT OF THE BOX! The Tactical Sports 2 Racing Green is an evolution of the new TS2, bringing in some key features that make this perfect for the competition or the range. Flat, green anodized aluminum grips and magazines with green anodized bases set this model apart visually, while a height adjustable rear sight, extended left side safety, thumb rest, flat side stop, adjustable, and green magazine release set this model apart physically. The TS 2 Racing Green has the potential to satisfy a wide range of shooters from beginners and intermediate shooters in the IPSC Standard Division or USPSA Limited Division, to hobby target shooters.
CZ TS 2 RACING GREEN SPECIFICATIONS:
Product Name:

CZ TS 2 Racing Green

SKU:

91224

Firearm Type:

Handgun

Purpose:

Competition

MSRP:

$2,055.00

Chambering:

9mm Luger

Magazine Capacity :

20 (THREE INCLUDED)

Magazine Type:

Double Stack

Frame:

Steel

Grips:

Thin Aluminum

Trigger Mech:

SA Only

Sights:

Fiber Optic front, HAJO rear

Barrel:

Cold Hammer Forged

Barrel Length:

5.23 in

Weight:

49 oz

Overall Length:

8.86 in

Height:

5.86

Width:

1.93 in

Safety:

Ambidextrous Manual Safety, Safety Stop on Hammer
PLEASE CLICK PICTURES FOR MORE RESOLUTION!

See full-sized image.
Status:
In Stock as of December 3, 2023
Category: Rifles
Brand: Daniel Defense
Keywords: 223 Rem, 556, 556 NATO, Daniel, DDM4V7, Deep Woods, Defense, Green, M-LOK
Manufacturer SKU: DD-02-128-13192-047 (Manufacturer Link)
Caliber: 556 NATO
Number of rounds: 32+1
Barrel length: 16"
Weight: 6.2 lbs.
Features: Deep Woods Green finish. M-Lok Rail. SEE DESCRIPTION.
Recommended Scope: Trijicon MRO or Nightforce 1-8
Condition: New in Hard Case!
Price: $1,979 Credit $30 Shipping by UPS

Contact us about this product.
The Daniel Defense on the very successful DDM4 configuration with M-LOK rail and striking DEEP WOOD GREEN finish!  
The Daniel Defense V7 is the first rifle in the DDM4 lineup to feature the M-LOK attachment technology with the Daniel Defense MFR 15.0 rail. Built around a Cold Hammer Forged, 16" barrel, the V7 has a DD improved Flash Suppressor to reduce flash signature. The mid-length gas system provides smooth and reliable cycling under any condition and reduces both perceived recoil and wear on moving parts.  A free-floating MFR 15.0 handguard offers incredible weight savings as well as superior cooling, ergonomics, and modularity while maintaining the strength and durability expected from Daniel Defense. With the M-LOK attachment points that run along 7 positions and an uninterrupted 1913 Picatinny rail on top, the V7 has plenty of room for the sights, optics, and accessories the user may require.  The new independently ambi GRIP-N-RIP Charging Handle accommodates left- and right-handed shooters and is engineered for suppressed fire, with anti-gas features that redirect gas flow upward and away from the face and operator.  The rifle is finished off with the rugged and comfortable Daniel Defense Buttstock and Pistol Grip.
MATERIALS & CONSTRUCTION
LOWER RECEIVER: Mil-Spec with Enhanced Flared Magazine Well and Rear Receiver QD Swivel Attachment Point. CNC Machined of 7075-T6 Aluminum, CERAKOTED DEEP WOODS GREEN
UPPER RECEIVER: Mil-Spec with Indexing Marks and M4 Feed Ramps. CNC Machined of 7075-T6 Aluminum, CERAKOTED DEEP WOODS GREEN
BARREL: Chrome Moly Vanadium Steel, Cold Hammer Forged, 1:7 Twist, 16″ Government Profile, Mid-length Gas System, Chrome Lined, Mil-Spec Heavy Phosphate Coated, and HP/MPI Tested
GAS SYSTEM: Pinned Low Profile Gas Block CNC Machined of 4140 hardened steel and Mil-Spec Heavy Phosphate Coating, Mid-length, Direct Impingement
MUZZLE DEVICE: Daniel Defense Flash Suppressor, 17-4 PH Stainless Steel, Salt Bath Nitride Finished
BOLT CARRIER GROUP: M16 Profile, Mil-Spec MP Tested, Chrome Lined, Properly Staked Gas Key
BUFFER: H Buffer
SIGHTS: Sold Separately
HANDGUARD: Daniel Defense MFR 15.0, CNC Machined of 6061-T6 Aluminum, M-LOK Attachment, Type III Hard Coat Anodized
CHARGING HANDLE: GRIP-N-RIP Charging Handle, Body CNC Machined of 7076-T6 Aluminum, Handles & Latch CNC Machined of 6061-T6 Aluminum, Heavy Duty Stainless Steel Roll Pins, Type III Hard Coat Anodized
RECEIVER EXTENSION: 6 Position Mil-Spec 7075-T6 Aluminum
BUTTSTOCK: Daniel Defense Buttstock, Glass Filled Polymer with Soft Touch Overmolding
PISTOL GRIP: Daniel Defense Pistol Grip, Glass Filled Polymer with Soft Touch Overmolding
CASE INCLUDED
PLEASE CLICK PICTURES FOR MORE RESOLUTION!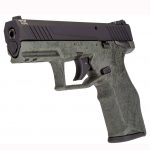 See full-sized image.
Status:
In Stock as of December 3, 2023
Category: Handguns
Brand: Taurus
Keywords: 22 LR, Green, Suppressor, Taurus, threaded, TX, TX22, TX22 SP2
Manufacturer SKU: 1TX22141 (Manufacturer Link)
Caliber: 22 Long Rifle
Number of rounds: 16+1
Barrel length: 4.1"
Weight: 17.3 oz.
Features: Please see description and watch video!
Condition: New in Box!
Price: $309 Credit, $303 Cash! $30 Shipping by UPS Air.

Contact us about this product.
Taurus® continues delivering innovative handgun designs. The TX22 is a.22LR suppressor-ready semi-auto that, out of the box, runs like a custom-tuned pistol but comes at a price point that puts a competition-level handgun squarely in the budget of the mainstream shooter.
Designed and engineered from the ground up to maximize fit, function, and comfort for shooters of all statures and levels of experience, the TX22 is a full-size polymer handgun that is ready from the outset to deliver success for competitive shooters as well as those just learning the art of pistol shooting. Boasting all the familiar features of larger-caliber semi-auto handguns yet in a rimfire chamber and with a class-leading 16-round capacity, the TX22 sets new performance standards and shooter expectations across the .22LR category.
The "human factor" was integrated into every aspect of the TX22 development process, allowing ergonomics to set the design parameters. The result is a full-size polymer frame handgun that is both comfortable and functionally efficient for a broad range of shooter sizes and shooting styles.
The short, smooth pull of its precision-designed Taurus Pittman Trigger System (PTS) utilizes a trigger reset that short and spring-assisted, allowing the shooter to deliver quick follow-up shots while maintaining good sight alignment. The audible trigger reset lets the shooter know once the sear is re-engaged and the TX22 is ready to fire the next round.
Key features of the TX22 include:
Single-action only striker-fire system
16 round magazine capacity
Crisp, 5-lb. trigger pull with short reset
Optimized slide weight for minimal recoil and fast target reacquisition
Proprietary grip texturing for positive hand placement
Fully adjustable rear sight
Suppressor-ready muzzle threading and included adaptor
Reversible mag release
Integrated accessory rail
The TX22 weighs 17.3 ounces, thanks in part to a 7075 aluminum slide that includes front and rear serrations and, on this version, features a hard-coat black anodized finish in the slide and a Black Splatter Green polymer frame . The comfortable grip and smooth operation combined with the .22LR chambering makes for a pistol that won't wear you out during extended target sessions.
In sum, the new Taurus TX22 design satisfies the needs of shooters of all sizes and experience levels without compromising in any area. This pistol meets the expectations of competitive-level shooters while providing the ideal platform for smaller-framed and beginning shooters—doing so at a viable price point that fits every budget.
PLEASE CLICK PICTURES FOR MORE RESOLUTION!
Taurus TX22 Specifications
Caliber: .22LR
Capacity: 16 round Magazine
Finish: Slide: matte black Frame: Black Splatter Green
Grip: textured
Firing System: striker
Action Type: Striker
Trigger Pull: 5 lbs.
Safety: ambidextrous manual (optional), firing pin block, trigger safety
Sights (front): white dot (1)
Sights (rear): adjustable white dot (2)
Slide Material: 7075 aluminum
Slide Finish: black hard-coat anodized
Overall Length: 7.06 inches
Overall Width: 1.25 inches
Overall Height: 5.44 inches
Barrel Length: 4.1 inches
Mag Release: reversible
Weight (w/empty magazine): 17.3 ounces
Magazines Included: 2
Accessories: Suppressor ready thread adaptor, lock, owner's manual
PLEASE CLICK MAIN PICTURES FOR MORE RESOLUTION!