THE GUN ROOM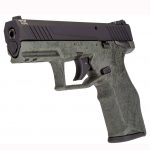 See full-sized image.
New! Taurus 1TX22141SP2 TX22 22 Long Rifle 4.1″ 16+1 Black Splatter Green Polymer Grip/Frame Black Steel Slide – Suppressor Adaptor
Status:
In Stock as of August 9, 2022
Category: Handguns
Brand: Taurus
Keywords: 22 LR, Green, Suppressor, Taurus, threaded, TX, TX22, TX22 SP2
Manufacturer SKU: 1TX22141 (Manufacturer Link)
Caliber: 22 Long Rifle
Number of rounds: 16+1
Barrel length: 4.1"
Weight: 17.3 oz.
Features: Please see description and watch video!
Condition: New in Box!
Price: $309 Credit, $303 Cash! $30 Shipping by UPS Air.

Contact us about this product.
Taurus® continues delivering innovative handgun designs. The TX22 is a.22LR suppressor-ready semi-auto that, out of the box, runs like a custom-tuned pistol but comes at a price point that puts a competition-level handgun squarely in the budget of the mainstream shooter.
Designed and engineered from the ground up to maximize fit, function, and comfort for shooters of all statures and levels of experience, the TX22 is a full-size polymer handgun that is ready from the outset to deliver success for competitive shooters as well as those just learning the art of pistol shooting. Boasting all the familiar features of larger-caliber semi-auto handguns yet in a rimfire chamber and with a class-leading 16-round capacity, the TX22 sets new performance standards and shooter expectations across the .22LR category.
The "human factor" was integrated into every aspect of the TX22 development process, allowing ergonomics to set the design parameters. The result is a full-size polymer frame handgun that is both comfortable and functionally efficient for a broad range of shooter sizes and shooting styles.
The short, smooth pull of its precision-designed Taurus Pittman Trigger System (PTS) utilizes a trigger reset that short and spring-assisted, allowing the shooter to deliver quick follow-up shots while maintaining good sight alignment. The audible trigger reset lets the shooter know once the sear is re-engaged and the TX22 is ready to fire the next round.
Key features of the TX22 include:
Single-action only striker-fire system
16 round magazine capacity
Crisp, 5-lb. trigger pull with short reset
Optimized slide weight for minimal recoil and fast target reacquisition
Proprietary grip texturing for positive hand placement
Fully adjustable rear sight
Suppressor-ready muzzle threading and included adaptor
Reversible mag release
Integrated accessory rail
The TX22 weighs 17.3 ounces, thanks in part to a 7075 aluminum slide that includes front and rear serrations and, on this version, features a hard-coat black anodized finish in the slide and a Black Splatter Green polymer frame . The comfortable grip and smooth operation combined with the .22LR chambering makes for a pistol that won't wear you out during extended target sessions.
In sum, the new Taurus TX22 design satisfies the needs of shooters of all sizes and experience levels without compromising in any area. This pistol meets the expectations of competitive-level shooters while providing the ideal platform for smaller-framed and beginning shooters—doing so at a viable price point that fits every budget.
PLEASE CLICK PICTURES FOR MORE RESOLUTION!
Taurus TX22 Specifications
Caliber: .22LR
Capacity: 16 round Magazine
Finish: Slide: matte black Frame: Black Splatter Green
Grip: textured
Firing System: striker
Action Type: Striker
Trigger Pull: 5 lbs.
Safety: ambidextrous manual (optional), firing pin block, trigger safety
Sights (front): white dot (1)
Sights (rear): adjustable white dot (2)
Slide Material: 7075 aluminum
Slide Finish: black hard-coat anodized
Overall Length: 7.06 inches
Overall Width: 1.25 inches
Overall Height: 5.44 inches
Barrel Length: 4.1 inches
Mag Release: reversible
Weight (w/empty magazine): 17.3 ounces
Magazines Included: 2
Accessories: Suppressor ready thread adaptor, lock, owner's manual
PLEASE CLICK MAIN PICTURES FOR MORE RESOLUTION!