THE GUN ROOM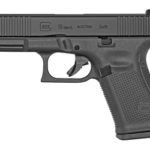 See full-sized image.
Status:
In Stock as of May 6, 2021
Category: Handguns
Brand: Glock
Keywords: 9mm, G19, Gen 5, Glock, Safe Action
Manufacturer SKU: PA195S203 (Manufacturer Link)
Caliber: 9 mm
Number of rounds: 15+1
Barrel length: 4.0"
Weight: 24.0 UL oz.
Features: Safe Action. Rail. nDLC finish, Marksman Barrel, Serrations
Condition: New in Box!
Price: $599 Credit, $587 Cash! $30 Shipping by UPS

Contact us about this product.
The GLOCK 19 Gen5 showcases the latest technology and engineering that drives GLOCK's constant pursuit of perfection. The G19 Gen5 features over 20 design modifications from its Gen4 predecessor, including the GLOCK Marksman Barrel, an nDLC finish, ambidextrous slide stop levers, a grip with no finger grooves, and a flared mag-well, all wrapped in a package perfect for concealed carry or use as a back-up weapon. These changes deliver improved accuracy, durability, performance, control, and flexibility in both low-stress and high-stress situations. The G19 Gen5 features a no finger grooved, multiple backstrapped, rough textured frame with hundreds of miniature spikes which results in remarkable traction for extreme environments and gloved operators. The frame also features a smooth trigger, reversible mag release, and ambidextrous slide stop. The magazine comes with a floor plate which is extended at the front for faster magazine change, and a orange follower, while the flared mag-well makes it easier to funnel the magazine into the mag-well. Glock's nDLC finish provides a tougher, more durable protection against corrosion and scratching. The Glock Marksman barrel features a barrel rifling which delivers improved accuracy. This Glock Gen5 model has fixed sights, front serration to help loading and a 15-round capacity.
PLEASE CLICK PICTURES FOR MORE RESOLUTION!

See full-sized image.
Status:
In Stock as of May 6, 2021
Category: Handguns
Brand: Glock
Keywords: 9mm, G19, Gen 3, Glock, Pistol
Manufacturer SKU: PI1750203
Caliber: 9 S&W
Number of rounds: 17+1
Barrel length: 4.49"
Weight: 32.3 oz.
Features: Tactical Rail.
Condition: New In Box
Price: 539 Credit. $30 Shipping by UPS Air

Contact us about this product.
NEW MANUFACTURE GEN 3! Many Police forces worldwide and Glock purists still demand the ultra-reliable Glocks of the third generation. That is why Glock still manufactures them in Austria. The GLOCK 17 combines compact dimensions for both open and concealed carry, with minimum weight, despite its large magazine capacity in 9mm caliber. Having survived durability tests and use by U.S. Law Enforcement agencies, the G17 pistol has repeatedly demonstrated its world-class durability and reliability in even the most unfavorable conditions. That's why countless police and military authorities wordwide continue to adopt the GLOCK 17 (Gen 3) as their official service pistol.