THE GUN ROOM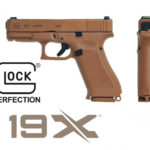 See full-sized image.
Status:
In Stock as of May 8, 2021
Category: Handguns
Brand: Glock
Keywords: 19X, 9mm, Coyote, FDE, G19, G19X, Glock, Night Sights, Safe Action
Manufacturer SKU: PX1950703 (Manufacturer Link)
Caliber: 9 mm
Number of rounds: 17+1 and 19+1
Barrel length: 4.0"
Weight: 24.2 UL oz.
Features: All FDE, nPVD Slide. Night Sights. 17 and two 19 mags.
Condition: New in Special Glock Coyote FDE Case)
Price: $649 Credit, $636 Cash! $30 Shipping by UPS Air

Contact us about this product.
BACK IN STOCK – ONE UNIT! GLOCK, Inc. introduced in 2018 their first ever "Crossover" pistol, the GLOCK 19X, which combines the best features of two of its most popular and most trusted field-tested platforms. The full-size frame and the compact slide have joined forces to produce the ideal pistol for all conditions and all situations.
"The G19X was developed for the military and is a practical everyday pistol that will do what you need it to do, when you need it to; every time, in every condition," says GLOCK VP Josh Dorsey. "The pistol was developed for the military using GLOCK's combat proven experience with consideration to efficiency, dependability and durability. Through rigorous testing, the G19X stands out above the competition and has the ability to function in all situations with ultimate reliability and accuracy. Our goal was to meet the demanding needs of the military while maintaining our standard of perfection. With proven results, the G19X delivers maximum efficiency and trustworthiness."
Confidence now comes in the coyote color with the first-ever factory colored slide. The nPVD slide coating of the GLOCK 19X prevents corrosion, resists chemicals, and stands up against the elements. Additional design features of the G19X include the GLOCK Marksman Barrel (GMB) with enhanced polygonal rifling and an improved barrel crown for increased accuracy, ambidextrous slide stop levers and no finger grooves for better versatility, and a lanyard loop for retention. The pistol includes a standard 17-round magazine and two 17+2-round extended magazines along with a coyote-colored pistol case.
The aggregate effect of all the G19X design enhancements gives any user the assurance to succeed and survive in all situations. A perfect "Crossover to Confidence"

See full-sized image.
Status:
In Stock as of May 8, 2021
Category: Rifles
Brand: Weatherby
Keywords: 6.5 Creedmoor, FDE, lightweight, Mark V, Outfitter, Ultra, Weatherby
Manufacturer SKU: MODS65CMR2O (Manufacturer Link)
Caliber: 6.5 Creedmoor
Number of rounds: 4+1
Barrel length: 22"
Weight: 5.75 lbs.
Features: Sub-MOA. FDE Cammo. Ultra Lightweight.
Recommended Scope: Swarovski Z8 or Z5. Nightforce SHV or NXS
Condition: New in Box
Price: $2,239 Credit, $2,194 Cash! $30 Shipping by UPS

Contact us about this product.
New Lightweight model! The Weatherby MARK V® OUTFITTER™ FDE RC has all the Mark V excellence with his lug design, hand-lapped barrel, LXX™ Trigger, etc. And has the super stealthy Flat Dark Earth Cerakote® finish for camo and protection. This rifle is Range Certified which means it fired a group at the factory that earned it a Range Certificate signed by Adam Weatherby. That's his promise to you that is going to deliver SUB-MOA accuracy.
FEATURES INCLUDE:
Range Certified with SUB-MOA accuracy guarantee (.99" or less 3-shot group at 100 yards when used with Weatherby® factory or premium ammunition)
Comes with printout from Oehler Ballistic Imaging System, including specific load/ballistic data and computer image of actual 3-shot group. Signed and certified by Adam Weatherby
LXX Trigger
Fluted Bolt Body
54-Degree Bolt Lift
Integral Recoil Lug
Cocking Indicator
6-Lug Action
5 ¾ pounds
STOCK:
Stock has been designed with a slimmer forearm and more distinctive lines and contours
Grip diameter has been reduced
Slight right-hand palm swell
Carbon fiber, hand-laminated, raised comb Monte Carlo composite stock
Aluminum bedding block
Matte gel coat finish
Spiderweb accents
High Desert Camo
BARREL AND METALWORK:
Hand-lapped
Fluted stainless steel 22″ 1 in 8″ twist
Recessed target crown
Flat Dark Earth Cerakote® finish on all metalwork
Range Certified engraved floorplate