THE GUN ROOM


See full-sized image.
Status:
In Stock as of August 9, 2022
Category: Shotguns
Brand: Winchester
Keywords: 12 gauge, Remington, semiauto, Shotgun, Super X4, SX4
Manufacturer SKU: 511269292 (Manufacturer Link)
Caliber: 12 Gauge
Number of rounds: 4+1
Barrel length: 28"
Weight: 7.0 lbs.
Features: Invector Plus chokes. Bead. Cammo. PLEASE WATCH VIDEO!
Condition: New In Box
Price: $1,019 Credit, $999 Cash! $30 Shipping by UPS Air

Contact us about this product.
From dove to turkey, excelling in waterfowl, the NEW Winchester SX4 will serve you well! The autoloading shotgun that's built 4 speed. Winchester Super X® Autoloading shotguns have a worldwide reputation for speed, reliability and handling. The Super X® 3 was a tough act to follow, and making the Super X® 4 evolution of this popular shotgun series even better than its predecessor was a real challenge. That's exactly what the gifted design engineers at Winchester Repeating Arms have done. The new Super X4 is lighter, faster cycling, smoother swinging and more ergonomic than ever before. The SX4 is a great looking shotgun, but for the all-around waterfowler, Mossy Oak's Shadow Grass Habitat takes it to a new level. SX4 performance has always been at the top. With Habitat camo, it is just a bit higher.
RECEIVER – Aluminum alloy; Flat Dark Earth (FDE) Cerakote finish
BARREL – Chrome plated chamber and bore; FDE Cerakote finish; Ventilated rib
ACTION – 12 gauge – 3½" and 3″ chamber; 20 gauge – 3″ chamber; Gas operated with Active Valve system
STOCK – Composite; Mossy Oak® Shadow Grass Habitat camo finish
FEATURES – Three Invector-Plus choke tubes (F,M,IC); TRUGLO® fiber-optic sight; New Inflex Technology recoil pad; Length of pull spacers; New larger cocking handle, bolt release, and reversible safety button for faster operation; New larger opening in trigger guard for gloved fingers; Sling swivel studs
SPECIAL FEATURES:
BACK-BORED TECHNOLOGY provides optimum shot patterns that are dense and even.
Choke Tubes: INVECTOR-PLUS CHOKE TUBE SYSTEM offers consistent patterns to match your target situation
All Shells range 2-3/4 to 3-1/2: SELF-ADJUSTING ACTIVE VALVE SYSTEM cycles a wide variety of loads while reducing "felt recoil".
Gas Flow: The ACTIVE VALVE SYSTEM adjusts gas pressures using Quadra-Vent technology.
Quadra-Vent Ports: QUADRA-VENT™ PORTS vent excess gases for cleaner operation
Trigger: DROP-OUT TRIGGER GROUP allows for easy cleaning.
LARGER BOLT HANDLE AND BOLT RELEASE BUTTON are faster and easier to operate.
Stock Spacers:LENGTH OF PULL SPACERS allow stock adjustments to achieve a perfect fit.
INFLEX TECHNOLOGY RECOIL PAD directs "felt recoil" down and away from your cheek to reduce flinch and fatigue.


See full-sized image.
Status:
In Stock as of August 9, 2022
Category: Rifles
Brand: Ruger
Keywords: 22LR, Ruger, semiauto
Manufacturer SKU: 1283
Caliber: 22 LR
Number of rounds: 25+1
Barrel length: 18.5"
Weight: 5 lbs.
Features: Collapsible Stock. 25rd Magazine. Flashider.
Condition: New In Box
Price: $299

Contact us about this product.
Adjustable stock system molded from tough, military-grade composite makes your Ruger rifle easier to handle and shoot. Improves the fit for the shooter with a six-position, push-button adjustable M4-style buttstock for fast, simple changes in length of pull. The comfortable, hand-filling SAW-style pistol grip includes internal storage with a spring steel closure clip. This model also includes a Picatinny-style accessory rail for convenient mounting of scopes or electronic sights and the bottom of the forearm has a removable cover and has another Picatinny rail for any other accessories such as bi-pods, lights or lasers. This 10/22 also comes with a 25 round magazine. The barrel is threaded with flash suppressor and no sights.

See full-sized image.
Status:
In Stock as of August 9, 2022
Category: Handguns
Brand: Kimber
Keywords: 45ACP, Kimber, Pistol, semiauto
Manufacturer SKU: 3200071
Caliber: 45 ACP
Number of rounds: 7+1
Barrel length: 4"
Weight: 28 oz.
Features: Stainless. Night Sights.
Condition: New In Box
Price: Please Call

Contact us about this product.
Ideal for carry or duty, a perfect combination of light weight and features. This model includes the top quality Meprolight Night Sights!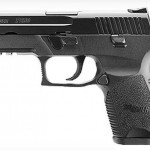 See full-sized image.
Status:
In Stock as of August 9, 2022
Category: Handguns
Brand: Sig Sauer
Keywords: 40S&W, semiauto, Sig
Manufacturer SKU: 250F40BSS
Caliber: 40 S&W
Number of rounds: 14+1
Barrel length: 4.7"
Weight: 30.9 oz
Features: Siglite Night Sights. Rail. Modular/
Condition: New In Box
Price: Please Call

Contact us about this product.
The P250 was designed specifically to address the future needs of the military, law enforcement, and civilian shooters around the world. The P250's innovative design enables the shooter to quickly remove the functional mechanism and place it into the polymer grip of his choice. This allows an immediate change in caliber and size(subcompact, compact and full). And after any change the pistol delivers both outstanding accuracy and reliable functionality. Its modularity not only provides incredible ease of maintenance, but also provides a solution for accommodating different hand sizes – there are 6 different ergonomic combinations for each size, accomplished by changes in grip circumference and trigger style. Now you can own the world's only modular shooting system globally engineered to deliver the "To-Hell -And-Back-Reliability" you've come to expect from Sig Sauer. This model has  SIGLITE Night Sights.