THE GUN ROOM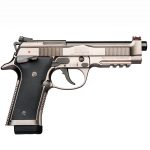 See full-sized image.
Status:
In Stock as of May 25, 2022
Category: Handguns
Brand: Beretta
Keywords: 92, 92X, 9mm, Beretta, Performance, Pistol, rail
Manufacturer SKU: J92XR21
Caliber: 9 mm
Number of rounds: 15+1
Barrel length: 4.9"
Weight: 47.5 oz.
Features: High Performance.
Condition: New In Beretta Locking Case
Price: $1,499 $30 Shipping by UPS Air

Contact us about this product.
NEW – ONE UNIT! The 92X Performance was created to satisfy two requirements: speed and accuracy. This competition pistol is uncompromising and aims for top performance, offering the world of competitive dynamic shooting one of the most reliable and world-renowned locking systems, together with a steel frame, a heavier Brigadier slide and the Extreme-S trigger mechanism. To enable even faster cycle time, the 92X has a skeletonized hammer with a competition standard hammer spring. The Extreme-S trigger mechanism keeps the striker automatic safety latch active ensuring the safety of the pistol in case it falls but decreases trigger reset by up to 40%. Two 15-rd magazines. 2 Sets of Grips. Beretta Locking Case.
PLEASE CLICK ON PICTURES FOR MORE RESOLUTION!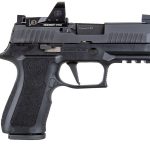 See full-sized image.
Status:
In Stock as of May 25, 2022
Category: Handguns
Brand: Sig Sauer
Keywords: 320, 320XC, 9mm, compact, rail, Romeo, ROMEO1, ROMEO1 PRO, RXP, Sauer, Sig
Manufacturer SKU: 320XC-9-BXR3-RXP (Manufacturer Link)
Caliber: 9mm
Number of rounds: 15+1
Barrel length: 3.6"
Weight: 25.8 oz.
Features: Mini Reflex Sight. Tall X-Ray Night Sights. Tactical Rail.
Recommended Scope: Included Romeo 1 PRO!
Condition: New In Box
Price: $999 Credit, $979 Cash! $30 Shipping by UPS Air

Contact us about this product.
New Model! The next level of striker-fired concealment with a slide-mounted reflex optic! The P320 XCompact features a completely redesigned modular polymer XSeries grip with a reduced fastback carry cut and a low-profile internal magwell. Combined with the extended beavertail and high undercut trigger guard, the XCompact offers ultimate comfort and concealability AND improved recoil control. The 3.6 barrel and XSeries slide with enhanced serrations come equipped with the X-Ray3 day/night front sight with rear night sight plate assembly. The XCompact is fully compatible with the ROMEO1PRO reflex optic and comes with two (2) 15-rd magazines. The P320 XCompact is the ultimate balance of form and function and redefines what compact pistols should be.
SIG 320: Winner of the Modular Handgun System (MHS) Army competition the P320 Compact offers a smooth, crisp trigger to make any shooter more accurate, an intuitive, 3-point takedown and unmatched modularity to fit any shooter and any situation. Its frame is ideal for target shooting, home defense and any scenario where shootability and sighted accuracy are of the highest priority. This modular, striker-fired pistol features a compact-size grip, compact length slide, and Tall SIGLITE Night Sights that co-witness with your reflex sight. This version comes in 9mm with 15+1 rounds of capacity and two magazines. Safety features include a striker safety, disconnect safety.
More about the ROMEO1PRO Mini Reflex sight:
The ROMEO1 features a molded glass aspheric lens with high performance coatings for superior light transmittance and zero distortion. Manual illumination controls remember your last used settings. Three MOA Red-Dot with multiple intensity settings ensures rapid target engagement under a full range of lighting conditions. The readily available CR1632 battery is top-loading, allowing for quick battery replacement without having to remove the sight from the firearm. Extremely strong and lightweight aircraft grade CNC Magnesium housing ensuring a lifetime of reliable service. Dependable waterproof (IPX-7 rated for complete immersion up to 1 meter) and fog-proof performance.
PLEASE CLICK PICTURES FOR MORE RESOLUTION!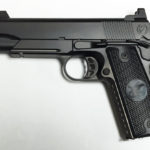 See full-sized image.
Status:
In Stock as of May 25, 2022
Category: Handguns
Brand: Nighthawk Custom - Korth
Keywords: 9mm, DLC, Heinie, Kestrel, Nighthawk, rail, threaded
Manufacturer SKU: NHK-KE-DLC-TB-AM-RL
Caliber: 9mm
Number of rounds: 8+1
Barrel length: 4.25"
Weight: 38 oz.
Features: Threaded. Tactical Rails. Night Sights. Ambi. Surefire XC1
Condition: New In Nighthawk Soft Case!
Price: $4,615 Free UPS 2nd Day Air Shipping!

Contact us about this product.
BEST-IN-CLASS 1911 9mm Suppressor Ready! A beautiful gun trying not to be! Custom build with all-business specifications to make it perfect!
From Nighthawk: "Handguns are called handguns for a reason; they're designed to be shot by hand. So, it only makes sense that a handgun should fit the hand that's shooting it. Working with master pistolsmith Richard Heinie, Nighthawk Custom has created what might be the ultimate concealed carry 1911. The grip frame on the Kestrel is one you won't want to let go of. It has been thinned at the front and back, comes with slender stocks, and is matched to a commander length slide for ease of concealment. It fits your hand like Dad's old hammer and carries like Grandpa's pocketknife"
Features:
Caliber: 9mm. Match Grade Threaded Barrel
Reduced Overall Frame Circumference
Magazine well beveled for insertion
Tall Trijicon Night Sights to clear suppressor
Hand Serrated Rear of Slide
Heinie Signature Scalloped front strap and Mainspring Housing
Tactical Light Rail
Forged Frame and 4.25″ Slide
Ambidextrous Safety Upgrade
100% Coated "Diamond-Like Carbon (DLC)" including controls and trigger
Tactical Checkered Extended Magazine Release
Mainspring Housing contoured for ease of carry
Nighthawk Custom Ultra-Thin Alumagrips™
Two Magazines
PLEASE CLICK PICTURES FOR MORE RESOLUTION (Notice the test group!)

See full-sized image.
Status:
In Stock as of May 25, 2022
Category: Handguns
Brand: FN Herstal
Keywords: 40S&W, FN, Pistol, rail
Manufacturer SKU: 66942
Caliber: 40 S&W
Number of rounds: 14+1
Barrel length: 4"
Weight: 27.5 oz.
Features: Night Sights, Adjustable Backstrap. Safety.
Condition: New In Box
Price: Please Call

Contact us about this product.
Better mousetrap? After years of tries by many companies FN finally developed a better Glock than the Glock! The FNS is the result of years of research incorporating the most precise engineering and product development to bring the most highly-advanced striker-fired pistol to the American law enforcement and personal defense market. The FN FNS is a true double-action pistol with a pivoting hinged trigger featuring an exceptionally crisp break and a short travel to reset. The matte black polymer frame comes with four interchangeable backstraps to customize grip fit and is designed with a low-bore axis for reduced felt recoil and enhanced control. The fully-ambidextrous controls are shaped for easy access without snagging on holsters or clothing. The contoured frame-mounted manual safety is ideally placed for positive operation by either thumb. The FNS offers a hammer-forged stainless steel barrel. The slide features front and rear cocking serrations and is topped with three-dot fixed night sights. The FN FNS also is equipped with steel frame rails that can be easily replaced.