THE GUN ROOM

See full-sized image.
Status:
In Stock as of August 9, 2022
Category: Handguns
Brand: Taurus
Keywords: 22 LR, competition, Suppressor, Tactical, Taurus, threaded, TX, TX22
Manufacturer SKU: 1TX22C151T (Manufacturer Link)
Caliber: 22 Long Rifle
Number of rounds: 16+1
Barrel length: 5.4"
Weight: 23 oz.
Features: Please see description!
Condition: New in Box!
Price: $479 Credit, $469 Cash! $30 Shipping by UPS Air.

Contact us about this product.
The TX22 Competition SCR (Steel Challenge Ready) is the next iteration of Taurus' standout .22LR semi-auto. Taurus revisited the TX22 platform with a Target model variant of the TX22 competition designed specifically to compete in Steel Challenge.
The TX22 Competition SCR builds on the original TaurusTX™ 22 Competition model with its precision engineered slide and match-grade bull barrel. The "skeletonized" slide with a custom enlarged ejection port is designed so that a red dot optic can be mounted to the barrel and to help prevent any issue during ejection of empty shells. This mounting configuration significantly enhances accuracy compared to a slide-mounted optic platform. Two adapter plates each featuring two mounting patterns are included to interface the leading red dot sights on the market today with the barrel.
THE TX22 COMPETITION SCR ALSO HAS THE FOLLOWING FEATURES:
TandemKross Game Changer PRO squared compensator adds weight for better gun balance and accuracy. It also redirects a portion of propellant gases to counter recoil and unwanted muzzle rise. The compensator vents gases at dual 45° angles for better visibility and control, as well as keeping your red dot lens clear of any gases or debris.
TandemKross "Eagle's Talon" aftermarket extractor made from the finest, hardened tool steel for extreme toughness and extended life ideal for competitors would shoot high round counts.
Custom bull barrel better absorbs vibrations and heat making for improved accuracy maintain through your match.
Custom feed ramp features a high polish to improve feeding and reliability.

See full-sized image.
Status:
In Stock as of August 9, 2022
Category: Handguns
Brand: Smith & Wesson
Keywords: 357 Mag, Center, competition, Performance, Revolver, Smith, Wesson
Manufacturer SKU: 170319
Caliber: 357 Magnum
Number of rounds: 6
Barrel length: 6"
Weight: 53 oz.
Features: Chrome Trigger and Hammer. Competition Weighted Barrel.
Condition: New In Box!
Price: $1,489 credit, $1,459 cash! $30 Shipping UPS Air

Contact us about this product.
BACK IN STOCK – ONE UNIT! Performance Center guns originate from standard designs or are created from the ground up. From hand-cutting and fitting to fine tuning for precision, these firearms are top performers. This very special competition revolver from the Performance Center is the ultimate expression of old-world craftsmanship blended with modern technology. Chrome hammer, chrome trigger with trigger stop, adjustable barrel weights and Performance Center tuned action.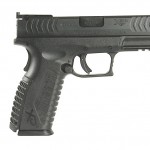 See full-sized image.
Status:
In Stock as of August 9, 2022
Category: Handguns
Brand: Springfield
Keywords: 9mm, competition, Pistol, Springfield
Manufacturer SKU: XDM95259BHC
Caliber: 9 mm
Number of rounds: 19+1
Barrel length: 5.25"
Weight: 29 oz.
Features: Match Barrel. Adjustable Sights. Holster. Mag Holster.
Condition: New In Box
Price: Please Call

Contact us about this product.
Springfield Armory's Custom Shop listened to pro shooters like 5 Time World Champion Rob Leatham to advance the design of its polymer pistols for competition use. The result is the XDM Competition a handgun with improved accuracy, lessened recoil, faster shot recovery and greater sight radius of its newly enhanced performance. The difference was achieved in the details. Fiber optic front sights allow for a faster sight acquisition for faster follow up shots. Adjustable sights allow the shooter to regulate his sights to any load combination. The Lightening cut in the slide reduces reciprocating mass which allows for faster cycling and allows a larger variety of loads to be used.