THE GUN ROOM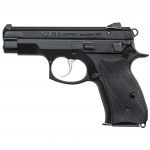 See full-sized image.
Status:
In Stock as of December 3, 2023
Category: Handguns
Brand: CZ - Dan Wesson
Keywords: 75, 75 D, 75D, 9mm, compact, CZ, PCR, Shadow
Manufacturer SKU: 91194 (Manufacturer Link)
Caliber: 9 mm
Number of rounds: 15+ 1
Barrel length: 3.7"
Weight: 27.5 oz.
Features: Deckocker. 15+1 Compact. All Steel.
Condition: New in Box!
Price: $699 Credit, $685 Cash! $30 Shiping by UPS Air

Contact us about this product.
Designed in 1975, inspired as a double action version of the legendary Browning Hi-Power, the CZ 75 is the flagship model of the CZ handgun line with over one million produced. The CZ 75 is used by more governments, military, police and security agencies than any other pistol in the world. It is quite possibly the perfect pistol. This version the "PCR" stands for 'Police Czech Republic,' the group for whom the model was originally designed. Nearly identical in size to the CZ 75 Compact, it weighs in at a full 1/4 pound less due to its forged aluminum frame, making it more comfortable for everyday carry. Equipped with a decocking lever, the PCR is designed to be decocked before holstering. After decocking, the trigger safety is much like that of a double action revolver. While there is no manual safety lever, the relatively longer and heavier first round trigger pull requires the conscious decision to pull the trigger before firing. There is a safety stop on the hammer as well as a firing pin block safety. It has snag-free, fixed, 3-dot sights. Other features of the PCR include rubber grip panels, serrated front and back straps, and a loaded chamber indicator. This model is shipped with two 15-round magazines.
PLEASE CLICK ON PICTURES FOR MORE RESOLUTION!