THE GUN ROOM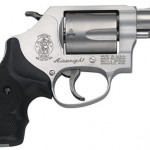 See full-sized image.
Status:
In Stock as of August 9, 2022
Category: Handguns
Brand: Smith & Wesson
Keywords: 38 Special, 38Spl, 637, Revolver, Smith, Wesson
Manufacturer SKU: 163050
Caliber: 38 Special
Number of rounds: 5
Barrel length: 1.87"
Weight: 15 oz.
Features: Stainlees and Alloy for minimum weight. Uncle Mike Grip.
Condition: New In Box
Price: $499 Credit, $489 Cash! $30 Shipping by UPS

Contact us about this product.
Back in Stock! The Smith & Wesson Model 637 5-shot J-frame is built with a stainless steel barrel and cylinder and an aluminum alloy frame with an exposed hammer that allows single and double action operation and is supplied with black rubber Uncle Mike's boot grips. The greatest strength of this gun is excellent accuracy. Other strengths include the rounded contours of the gun, ease of concealment, its simplicity of operation and high production values in finish and fit.