THE GUN ROOM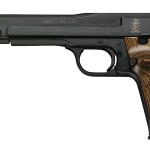 See full-sized image.
Status:
In Stock as of March 20, 2018
Category: Handguns
Brand: Smith & Wesson
Keywords: 22 LR, 41, Model 41, Smith, Wesson
Manufacturer SKU: 130512
Caliber: 22 LR
Number of rounds: 10+1
Barrel length: 7"
Weight: 42 oz.
Features: Adjustable Sight. Wooden Target Grip with Thumbrest.
Condition: New In Box!
Price: $1,199 Credit, $1,179 cash! $30 Shipping UPS Air

Contact us about this product.
Hard to find, Limited Production Gun! For competitive target shooting or other recreational purposes, there's no better choice than Smith & Wessons classic Model 41. Known for superior performance and accuracy, these Rimfire pistols has a 7″ barrel, adjustable target sights and competition style wood grips with thumb rest.
Next »