THE GUN ROOM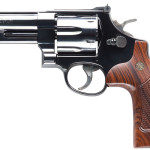 See full-sized image.
Back in Stock! Smith & Wesson Model 29 150254 Classic 44Mag 4″ Blued 6rd Square Butt Walnut Grip Blued
Status:
In Stock as of May 6, 2021
Category: Handguns
Brand: Smith & Wesson
Keywords: 44 Magnum, Classic, Mod 29, Smith, Wesson
Manufacturer SKU: 150254
Caliber: 44 Magnum
Number of rounds: 6
Barrel length: 4"
Weight: 44.1 lbs.
Features: Square Butt Walnut Grips. Classic Blue.
Condition: New In Box!
Price: 989 credit, $969 cash! $30 Shipping bu UPS Air

Contact us about this product.
BACK IN STOCK! Smith & Wesson makes it possible for you to own a piece of history in the making with these Classic revolvers. They're the finest handguns possible with designs going back to the most famous and collectible guns that Smith & Wesson ever constructed. Each is based on a model known for legendary performance then enhanced with modern advantages. They're the timeless best of both worlds. This is an identical new production version of the legendary Mod 29 44 Magnum with a 4 inches barrel!