THE GUN ROOM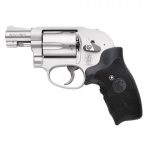 See full-sized image.
Smith & Wesson 163071 638 Airweight 38 Special 1 7/8″ Barrel 5rd Crimson Trace Lasergrip – Matte Stainless Finish
Status:
In Stock as of May 8, 2021
Category: Handguns
Brand: Smith & Wesson
Keywords: 44 Magnum, Revolver, Smith, Wesson
Manufacturer SKU: 163071
Caliber: 38 Special
Number of rounds: 5
Barrel length: 1 7/8"
Weight: 15.3 oz.
Features: Protected Hammer DA/SA. Crimson Trace Lasergrip
Condition: New In Box
Price: $639 credit, $626 cash! $30 Shipping

Contact us about this product.
A great carry choice. The shrouded (protected) hammer still allows for single action or double action operations without snags! J-Small frame. Five round capacity. Smooth target trigger. Serrated ramp front sight. Fixed notch rear sight. Crimson Trace – Uncle Mikes style boot grips for better handle with all sizes of hands. Aluminum alloy frame, stainless steel cylinder. Matte finish.
PLEASE CLICK PICTURES FOR MORE RESOLUTION!