THE GUN ROOM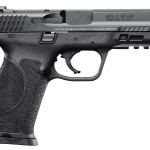 See full-sized image.
New! Smith & Wesson 11521 M&P M2.0 Double Action 9mm 4.25″ 17+1 Black Interchangeable Backstrap Grip- Black Stainless Steel
Status:
In Stock as of August 9, 2022
Category: Handguns
Brand: Smith & Wesson
Keywords: 9mm, M&P9, M2.0, S&W, Smith, Wesson
Manufacturer SKU: 11521
Caliber: 9mm
Number of rounds: 17+1
Barrel length: 4.25"
Weight: 24.7 oz.
Features: Improved ergonomics, trigger and looks!
Condition: New in Box!
Price: $509 Credit, $499 Cash! $30 Shipping by UPS

Contact us about this product.
A GREAT PISTOL MADE BETTER!
The M&P M2.0 pistol is designed for personal, sporting, and professional use. It delivers innovative features in nearly every aspect of the pistol, including trigger, grip, frame, and finish. Highlights of the M&P M2.0 pistol include an extended stainless-steel chassis and high grip to barrel bore axis ratio for reduced muzzle rise and faster aim recovery. The M&P M2.0 pistol further improves performance with a fine-tuned, crisper trigger, lighter pull and a tactile and audible reset. Included are two magazines.