THE GUN ROOM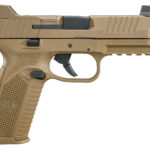 See full-sized image.
Back in Stock! FN 66100373 FN-509 Tactical 9mm 4.5 Threaded 17+1 or 24+1 Low Profile Optics Mounting System – Tall Night Sights- Striker – FDE – One 17-round and one 24-round mags – Interchangeable Backstraps – Soft Case
Status:
In Stock as of May 25, 2022
Category: Handguns
Brand: FN Herstal
Keywords: 509, 9mm, FN, FN USA, Herstal, Optics Ready, Tactical, threaded
Manufacturer SKU: 66100373 (Manufacturer Link)
Caliber: 9 mm
Number of rounds: 17+1 or 24+1
Barrel length: 4.5"
Weight: 27.9 oz.
Features: Threaded. Optics Ready. Tall Sights. Case
Condition: New in Box and Soft case!
Price: $919 Credit, $901 Cash. $30 Shipping by UPS Air

Contact us about this product.
FN 509 TACTICAL! The FN 509® Tactical, an extension of the FN 509 family, is based on FN's submission pistol that the U.S. Army tested for its Modular Handgun Trials, but includes the significant improvements to the design that were implemented in the FN 509. The pistol features the company's patent-pending Low-Profile Optics Mounting System™ that enables the platform to accept more than ten commercially-available miniature red dot (MRD) optics that co-witness with the suppressor-height night sights and remain adaptable to future optics releases with no requirement of direct milling of the slide. The slide cap, for use when not shooting with an optic, has raised sight wings that protect iron sight alignment if the pistol is dropped or jostled, and provides a textured ramp for racking the slide against a belt loop, pant pocket or boot. An FN-signature 4.5-inch, cold hammer-forged, stainless-steel barrel with target crown, ½" x 28 threads that accept the bulk of 9mm suppressors available and thread cap with integrated O-ring to prevent loosening during use complete the top end. Lastly, the 24-round magazine, nearly identical in length to the pistol's slide, maximize ammunition capacity without impacting carry convenience.
SPECIFICATIONS:
CALIBER: 9mm
OPERATION: Double-action
MAG CAPACITY: 17 and 24 Rd.
WEIGHT: 27.9 oz.
BARREL LENGTH: 4.5″
OVERALL LENGTH: 7.9″
TWIST RATE: 1:10″ RH
HEIGHT: 5.75″
WIDTH: 1.35″
TRIGGER PULL: 5.5 – 7.5 lb.
SIGHT RADIUS: 5.79″
PRIMARY FEATURES:
Striker-fired autoloader
5.5 to 7.5 lbs. Trigger pull
FN Low Profile Optics Mounting System™
Threaded Barrel
Suppressor Height Night Sights
FN Low Profile Optics Mounting System™
Sight Protecting Slide Cap
External extractor; loaded chamber indicator
Cold hammer-forged stainless steel barrel with recessed target crown, polished chamber and feed ramp. 1/2" x 28 threaded with O-Ring retention thread cap
Enhanced grip texture which enables faster follow-up shots in all conditions with interchangeable backstraps and MIL-STD-1913 accessory mounting rail
Fully ambidextrous slide stop lever and magazine release. High visibility, low-friction follower; polymer base with black finish and Two interchangeable backstraps
One 17-round and one 24-round magazines
FN logo soft pistol case with Owner's manual and locking device
PLEASE CLICK PICTURES FOR MORE RESOLUTION!