THE GUN ROOM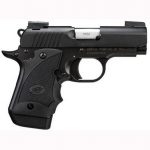 See full-sized image.
New for 2021! Kimber Micro9 NIGTFALL 9mm 7+1 – TruGlo TFX Day/Night Sight – Hogue WrapAround Grip – Two 7 Round magazines
Status:
In Stock as of July 4, 2022
Category: Handguns
Brand: Kimber
Keywords: 9mm, Day/Night, Hogue, Kimber, Micro9, Nightfall
Manufacturer SKU: 330194
Caliber: 9mm
Number of rounds: 7+1
Barrel length: 3.15"
Weight: 15.6 oz.
Features: TruGlo Day Night Sights. Hogue Grip. 2x7-round mags
Condition: New in Box with Kimber pouch!
Price: $709 credit, $695 cash! $30 UPS Air Shipping

Contact us about this product.
AN ALL-BUSINESS carry version of the popular Kimber Micro9! The Micro 9 Nightfall (DN) (day/night sights) features TruGlo TFX Day/Night Sights and Wraparound Grips and has a smooth trigger pull, mild recoil and the intuitive operation of a 1911. Perfect carry gun!
PLEASE CLICK ON PICTURES FOR MORE RESOLUTION!