THE GUN ROOM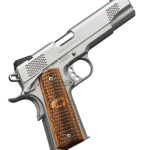 See full-sized image.
Back in Stock! Kimber Stainless Raptor II 45 ACP CUSTOM SHOP – Raptor Serrations and Grips – Ambidextrous Safety – Night Sights
Status:
In Stock as of December 3, 2023
Category: Handguns
Brand: Kimber
Keywords: 45ACP, Ambi, Kimber, Pistol, Raptor, Raptor II, stainless
Manufacturer SKU: 3200181 (Manufacturer Link)
Caliber: 45 ACP
Number of rounds: 8+1
Barrel length: 5"
Weight: 38 oz.
Features: Custom Shop. Ambi. Raptor Serrations. Night Sights.
Condition: New In Box!
Price: $1,449 Credit, $1,420 Cash $30 Shipping by UPS Air

Contact us about this product.
BACK IN STOCK, 2023 MANUFACTURE! The highest quality, looks and features at a reasonable price! Cure for the common pistol. Built in the Kimber Custom Shop, Raptor II .45 ACPs take their name from dynamic slide and frame serrations, feathered logo grips and finish accents. While the design theme is unique, performance is exactly what shooters expect from Kimber – unequaled.
This Stainless Raptor II .45 ACP is loaded with Custom Shop features that ensure dependability and accuracy. Night sights, ambidextrous thumb safety, bumped and grooved grip safety and match grade barrel, chamber and trigger are standard. This unit full-size configuration has a 5-inch barrels making no compromises to its potential as a duty, competition or home defense firearm. The quality of Kimber Custom Shop pistols is on par with that of America's top pistolsmiths. Pick up a Raptor. See for yourself.
SPECIFICATIONS
Height (inches) 90° to barrel: 5.25
Weight (ounces) with empty magazine: 38
Length (inches): 8.7
Magazine capacity: 8
Ambidextrous thumb safety
Recoil spring (pounds): 16.0
Full-length guide rod
FRAME
Material: Stainless steel
Finish: Satin Silver brush polished flats
Width (inches): 1.28
SLIDE
Material: Stainless steel
Finish: Satin Silver brush polished flats
Front serrations
BARREL
Length (inches): 5
Material: Stainless Steel, match grade
Stainless steel match grade bushing
Twist rate (left hand): 16
SIGHTS
Tactical Wedge 3-dot tritium night sights
Radius (inches): 6.8
GRIPS
Zebrawood grips with scale pattern and Kimber logo
TRIGGER
Aluminum, match grade
Factory setting (approximate pounds): 4.0 – 5.0
PRODUCT CODE
Product #: 3200181
UPC: 669278321813