THE GUN ROOM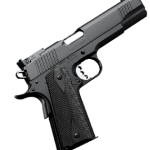 See full-sized image.
Kimber Custom Target II 45 ACP
Status:
In Stock as of August 9, 2022
Category: Handguns
Brand: Kimber
Keywords: 45ACP, Custom, Kimber, Target
Manufacturer SKU: 320004 (Manufacturer Link)
Caliber: 45 ACP
Number of rounds: 7+1
Barrel length: 5"
Weight: 38 oz.
Features: Adjustable Sights. All-Match Components.

Contact us about this product.
Accuracy and dependability right out of the box. Made in America. The choice of America's best shooters. Kimber is the most popular 1911 pistol in the world and Kimber quality is unequaled by any other manufacturer. The Custom family is where it all began.
The Kimber Custom Target II sets the performance standard for production 1911 pistols. With its adjustable sights it could become a base competition, recreational or self-defense platform. Includes the Kimber Firing Pin Safety,™ designated by "II" in the model name, along with rounded and blended edges for comfortable carry. The barrel, barrel bushing, chamber and trigger are all machined to exacting match grade dimensions. The ejection ports are lowered and flared, and the target sights is mounted in a dovetail machined into the slide.