THE GUN ROOM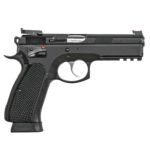 See full-sized image.
New! CZ 75 SP-01 Shadow Target II Semi-Automatic DA/SA 9mm 18 Rounds – Full Size 4.6″ Cold Hammer Forged Barrel – Steel Frame with Rail – Black Finish – Thin Aluminum Checkered Grips – Tuned Trigger – Ambi Safety – Adjustable Target Rear/Fiber Optic Front Sights – 3 18rd Magazines
Status:
In Stock as of July 21, 2019
Category: Handguns
Brand: CZ - Dan Wesson
Keywords: 9mm, Custom, Custom Shop, CZ, Shadow, SP-01, Target, Target II, Trigger Job
Manufacturer SKU: 91257 (Manufacturer Link)
Caliber: 9 mm
Number of rounds: 18 + 1
Barrel length: 4.6"
Weight: 41.1 oz.
Features: Custom Shop Trigger Job. Adjustable Sights. All Steel.
Condition: New in Box!
Price: $1,539 Credit, $1,508 Cash! $30 Shiping by UPS Air

Contact us about this product.
A new model that will become the ultimate affordable competition pistol (and fun for just target practice)! Created by champion shooter Angus Hobdell's The CZ 75 SP-01 Shadow Target II is a competition-ready Pre-B style, featuring a CZ Custom trigger job with the new short reset single-action trigger, fully-adjustable rear sight, fiber optic front sight, stainless steel guide rod, lighter springs for competition (11 lb recoil and 13 lb main springs), extended magazine release, drop-free magazines and checkered aluminum grips. Comes with 3 18-round magazines!
Specifications:
Firearm Type:

Handgun

Purpose:

Competition

Chambering:

9mm Luger

Magazine Capacity:

18

Magazine TypeL

Double Stack

Frame:

Steel

Grips:

Thin Aluminum Checkered

Trigger: Mech

DA/SA Custom Shop Trigger Job

Sights:

Adjustable Target Rear Fiber Optic Front

Barrel:

Cold Hammer Forged

Barrel Length:

4.6 in

Weight:

41.1 oz

Overall Length:

8.15 in

Height:

5.79 in

Width:

1.46 in

Safety:

Ambidextrous Manual Safety, Safety Stop on Hammer
PLEASE CLICK ON PICTURES FOR MORE RESOLUTION!