THE GUN ROOM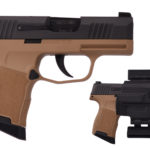 See full-sized image.
Status:
In Stock as of May 8, 2021
Category: Handguns
Brand: Sig Sauer
Keywords: 365, P365, Sauer, Sig, Sig Sauer, Value
Manufacturer SKU: 365-9-BXR3-VP
Caliber: 9 mm
Number of rounds: 10+1 or 12+1
Barrel length: 3.1"
Weight: 17.8 oz.
Features: FDE Frame,X-Ray3 Night Sights. Two 12-round+one 10-rd mags!
Condition: New in Box!
Price: $579 Credit! $30 Shipping by UPS Air

Contact us about this product.
Limited Edition Value Pack of the successful Sig 365! One of the most successful new pistol of SIG SAUER is the game changing SIG P365.  Micro-compact everyday carry size with unprecedented full-size capacity. The P365 is striker-fired, with the clean crisp trigger pull you expect from a SIG. Lightweight and easy to conceal, the P365 is chambered in 9mm and is rated for +P ammunition. Included standard are XRAY3 Day/Night sights, a 10-round flush fit magazine, and a 10-round extended magazine. On this FDE frame limited version two additional 12-round extended magazines allows you to bring the total capacity to 13 rounds. Also includes a holster. The new P365: carry more gun everyday!