THE GUN ROOM

See full-sized image.
Status:
In Stock as of May 8, 2021
Category: Rifles
Brand: Smith & Wesson
Keywords: 223 Rem, 5.56 NATO, S&W, Smith, Sport, Sport II, Wesson
Manufacturer SKU: 10202
Caliber: 223 Rem / 5.55 NATO
Number of rounds: 30+1
Barrel length: 16.0"
Weight: 6.4 lbs.
Features: Forged 7075 T6 Aluminum. A2 Front, Magpul Rear Sights.
Condition: New In Box!
Price: $819 Credit, $803 Cash $30 Shipping by UPS

Contact us about this product.
Back in Stock – One Unit! Smith & Wesson new model the M&P Sport II puts a quality AR-15 within easy reach of the modern shooter looking for an affordable top brand AR-15, or the first-time buyer looking for a starting point on which to build their dream tactical rifle. The Smith & Wesson M&P 15 Sport II features a 16″ 1-9″ twist chrome lined barrel. It has a 6-Position collapsible stock.  The front sight is an adjustable A2 post sight and collapsible MBUS rear sight.  It features a 30+1 capacity, dust cover, and forward assist. Threaded with A2 Flash Hider.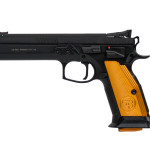 See full-sized image.
Status:
In Stock as of May 8, 2021
Category: Handguns
Brand: CZ - Dan Wesson
Keywords: 9mm, CZ, CZ-75, CZ75, Orange, Sport, Sports, Tactical
Manufacturer SKU: 91261 (Manufacturer Link)
Caliber: 9mm
Number of rounds: 20+1
Barrel length: 5.4"
Weight: 47.5 oz.
Features: IPSC Ready. Adjustable Sights. Target low-weight trigger.
Condition: New In Box!
Price: $1,749 credit, $1,714 cash! $50 Shipping UPS Air

Contact us about this product.
TARGET OR COMPETITION READY OUT OF THE BOX! The weight and balance of the CZ 75 Tactical Sports is optimized for the rapid, accurate style of shooting necessary for success in practical shooting disciplines. The tactical sports model is the next generation of the proven CZ 75 standard IPSC. The TS retains all of the best features of standard IPSC model and improves upon the platform with increased durability,  sights, low weight crisp trigger system and more. Turning the Tactical Sports up a notch, the Orange borrows a number of design features from the IPSC Open Czechmate and incorporates a few of its own. With the slimmer trigger guard, revised grip geometry and finer checkering from the Czechmate frame, it adds a thumb stop and fully-adjustable target sights. With the same long slide and full-length dust cover as the standard TS, it also shares the single-action-only trigger, giving it an incredibly light pull and short reset, making it a joy to shoot at the range and deadly in competition! Comes in a large case with three magazines (with orange butt-plates) and cleaning accessories.
PLEASE CLICK PICTURES FOR MORE RESOLUTION!