THE GUN ROOM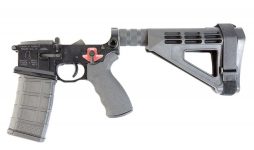 See full-sized image.
Status:
In Stock as of December 3, 2023
Category: Uppers, Lowers and Accessories
Brand: Franklin Armory
Keywords: Armory, BFS, BFSIII, Binary, Brace, Franklin, Lower, Trigger
Manufacturer SKU: 00-30006-BLK (Manufacturer Link)
Caliber: 556 Family (300BO)
Number of rounds: 30+1
Features: BFS III Binary trigger. SBM4 Brace
Condition: New in Box!
Price: $689 Credit, $675 Cash $30 Shipping by UPS

Contact us about this product.
WE ARE NOT TOO MUCH INTO PARTS BUT COULD NOT PASS STOCKING FOR YOU THIS VERY HARD TO GET LOWER – WITH THE FLAWLESS FRANKLIN ARMORY  BFSIII BINARY TRIGGER! 
Franklin Armory®'s custom designed billet lower incorporates integrated ambidextrous, anti-rotational Quick Detach sling mounts. On the magwell, forward of the trigger is a textured Memory Index Point for safely resting the trigger finger when not ready to fire. The magazine well is also enlarged and beveled to facilitate quicker magazine changes. The integral trigger guard is over-sized to allow room for larger hands or gloves. The front of the magazine well is also textured to allow it to be used as a grip for forward support. Franklin Armory's revolutionary Binary Firing System (BFSIII) is ideal for three gun competitors, tactical shooters, and recreational enthusiasts. It features a three position selector – Mode 1 for Safe, Mode 2 for traditional semi-automatic Mode, or Mode 3 for Binary Mode. In Binary Mode, the firearm will discharge one round with every function of the trigger, whether a pull or a release. A user can negate the round that would otherwise be fired during the release function by moving the selector back to Mode 2 and then safely releasing the trigger.
Specifications and Features:
Lower Receiver:
Franklin Armory® SALUS® Proprietary Billet Lower Receiver
Machined From 7075-T6 Aluminum
Hard Coat Type III Anodized Black, Desert Smoke™, or Olive Drab Green
Flared Magazine Well for Quick Magazine Changes
Ambidextrous Push Button QD Sling Mounts
Integral Cold Weather Trigger Guard
Serrated Memory Index Point for Shooting Finger
Textured Front Area for Offhand Grip
Specialized Tension Screw – Eliminates Upper/Lower Play
Franklin Armory® Binary Firing System®
Ergo Ambi Sure Grip
Magazine: Magpul Pmag = P30
Stock: SBM4 Brace
BFSIII® is NOT for civilian sales in CA, CT, DC, FL, HI, IA, MD, NJ, NY, RI, and WA