THE GUN ROOM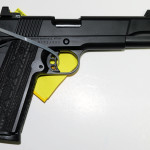 See full-sized image.
Status:
In Stock as of May 6, 2021
Category: Handguns
Brand: Nighthawk Custom - Korth
Keywords: 45 ACP, GAP, Georgia, Nighthawk, Precision, threaded
Manufacturer SKU: NHK GAP Custom Build
Caliber: 45 ACP
Number of rounds: 8+1
Barrel length: 5.5"
Weight: 42 oz.
Features: Please read description!
Condition: New In Nighthawk Soft Case
Price: $3,895. Free UPS 2nd Day Air Shipping!

Contact us about this product.
Nighthawk has had a longstanding friendship with George Gardner. Gardner is the man behind GA Precision, which is a premier producer of tactical, long-range rifles. So, when GA Precision decided to offer their clients the ultimate 1911 to go with their ultimate rifles, they turned to Nighthawk Custom. Nighthawk engineered a battle ready 1911, designed for hard and heavy use and it became the GA Precision 1911. So taken with the uniqueness of these pistols, with their lighting ball cuts on top of the slide and front strap, and the high power cuts on the front of the slide, Nighthawk decided to offer the model for the long-term and call it the GAP 1911. The Nighthawk GAP is the perfect 1911 for any shooter who appreciates precision up close and a long way off. If you want to shoot the cents of a silver dollar at 50 yards with your fighting handgun, look no further than the Nighthawk GAP! This unit specially customized for The Scopesmith includes:
Standard Government Frame
Threaded Barrel (.578″-28 Thread) with thread protector
Tall Heinie Tritium Suppressor Sights
Ambidextrous Safety, Fully Machined Tool Steel
Thick Bushing and Smooth Plug
Hand Serrated Rear of the Slide
Custom Lightening Ball Cut Front Strap and Mainspring Housing
Custom Blended Magwell
Beveled and Recessed Slide Stop
Custom Hi-Power Slide Cut
Everlast Recoil Flat Wire System
GA Precision logo behind rear coking serrations
Nighthawk logo and name on non-ejection side of the slide
Black-out PVD (Diamond Black) finish
VZ Ragnarok Grips
2 8-Round Magazines
Test Target and Build Sheet
Soft Case
PLEASE CLICK PICTURES FOR MORE RESOLUTION