THE GUN ROOM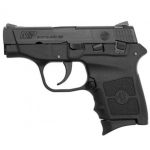 See full-sized image.
Status:
In Stock as of May 8, 2021
Category: Handguns
Brand: Smith & Wesson
Keywords: 380, 380 ACP, Bodyguard, M&P, Smith, Wesson
Manufacturer SKU: 109381 (Manufacturer Link)
Caliber: 380 ACP
Number of rounds: 6+1
Barrel length: 2.75"
Weight: 12 oz.
Features: Corrosion Resistant. Positive Safety. Second Strike capable.
Condition: New In Box
Price: $359 credit, $332 cash! $30 Shipping by UPS Air

Contact us about this product.
Back in Stock from Smith & Wesson: The popular M&P Bodyguard without laser for minimum size and low price! When anything else is too big the S&W M&P Bodyguard 380 offers a uniquely-engineered, lightweight self-defense pistol. Fish scale serrations are located on the rear of the slide for ease of use, and the stainless steel slide and barrel are Maximum Corrosion Resistant (MCR)-coated. The M&P Bodyguard 380 is compact, sleek, and ergonomic, and it features rapid second-strike capability, a very positive thumb safety that makes it safe to carry loose in a pocket or purse, a take-down lever, and stainless steel drift-adjustable sights.