THE GUN ROOM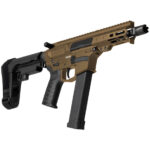 See full-sized image.
Status:
In Stock as of May 20, 2022
Category: Handguns
Brand: CMMG
Keywords: 45 ACP, Banshee, Bronze, CMMG, MkG, Pistol
Manufacturer SKU: 45A69BB-MB (Manufacturer Link)
Caliber: 45 ACP
Number of rounds: 13+1
Barrel length: 5"
Weight: 4.7 lbs.
Features: 21 inch total length. Collapsible Brace. Threaded
Recommended Scope: Trijicon MRO or Aimpoint T1/T2
Condition: New In Box!
Price: $1,619 Credit, 1,587 Cash $50 Shipping (oversized)

Contact us about this product.
THE LATEST VERSION OF THE REVOLUTIONARY PISTOL, BANSHEE MkG IN 45 ACP, 5″
Chambered in the most American of pistol calibers, this is the most compact .45 ACP BANSHEE™ available. Don't be fooled though, just because this BANSHEE is the right size to go with you anywhere doesn't mean that you have to sacrifice ergonomics or shootability.
The BANSHEE series represents the most innovative AR pistols and SBRs available today. From the quick deploying RIPBRACE®, to the stylized receivers and EML™ handguards, every BANSHEE is tailor-made to be the personal defense weapon you can always depend on. New EML4 handguards feature M-LOK® slots at 3, 6, & 9 o'clock positions and a full length picatinny top rail for accessories as well as an integrated handstop. Since making its debut on the original .45 ACP MkG platform in 2017, Radial Delayed Blowback has revolutionized pistol caliber ARs across the entire CMMG lineup. As a result of meticulous engineering, Radial Delayed Blowback not only addressed some operational concerns with a traditional straight blowback system, but it also delivered pistol caliber carbines and personal-defense weapons with softer recoil impulses and lighter weight bolt carrier groups and buffer systems than straight blowback systems could deliver. Check out our CMMG Resources article & video to learn more about what sets Radial Delayed Blowback apart.
MkG ZEROED parts and accessories – Quality comes standard
The AR platform is well known for its capability for customization but picking the right parts doesn't have to be a nightmare of homework. Everything from the RIPBRACE to the full kit of ZEROED parts and accessories are made here in the USA with quality and attention to detail that is second to none and each BANSHEE comes equipped with a slew of ZEROED parts standard, including:
ZEROED Pistol Grip
ZEROED 60°/90° Ambi Safety
ZEROED AR15 Ambi Charging Handle
ZEROED AR15 Bolt Catch
ZEROED AR15 Polymer Dust Cover
ZEROED Linear Compensator 45ACP
SPECIFICATIONS:
PLATFORM: MKG
CALIBER: .45 ACP
MAGAZINE: GLOCK Compatible
OPERATING SYSTEM: RADIAL DELAYED BLOWBACK
BARREL LENGTH: 5 INCHES 1:16 TWIST
MUZZLE DEVICE: CMMG ZEROED LINEAR COMPENSATOR WITH MUZZLE THREAD 0.578 X 28
UPPER RECEIVER: BILLET 6061 T6 ALUMINUM
LOWER RECEIVER: MKG FORGED 7075 T6 ALUMINUM
HAND GUARD: CMMG EML4 M-LOK
FINISH: CERAKOTE MIDNIGHT BRONZE
CHARGING HANDLE: CMMG ZEROED AMBI
PISTOL GRIP: CMMG ZEROED PISTOL GRIP
CMMG 6 POSITION FASTBACK EXTENSION BRACE
WEIGHT: 4.8 LBS
LENGTH: 20.8″