THE GUN ROOM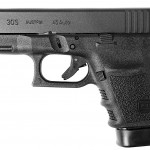 See full-sized image.
Status:
In Stock as of June 23, 2021
Category: Handguns
Brand: Glock
Keywords: 30S, 45ACP, Glock, Pistol, Slim
Manufacturer SKU: PH3050201
Caliber: 45 ACP
Number of rounds: 10+1
Barrel length: 3.78"
Weight: 20.3 oz.
Features: Slim Design. Rough Texture Grip.
Condition: New In Box
Price: $559 Credit, $548 Cash! $30 Shipping by UPS

Contact us about this product.
BACK IN STOCK!!! The Glock 30SF (Slim Design) is a special model in 45 auto designed to provide maximum power and accuracy with a slim frame and extremely comfortable grip. The barrel length is 3.78″ with an overall length of 6.97″, the width of the pistol is 1.28″ and the height with magazine is 4.80″. The pistol without the magazine weighs 20.3 ounces. Magazine capacity is 10 rounds.