THE GUN ROOM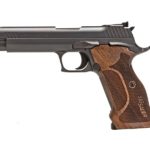 See full-sized image.
Status:
In Stock as of August 9, 2022
Category: Handguns
Brand: Sig Sauer
Keywords: 210, 210 Target, 210A-9-TGT, P210, P210A, P220, Sauer, Sig, Target
Manufacturer SKU: 210A9TGT (Manufacturer Link)
Caliber: 9mm
Number of rounds: 8+1
Barrel length: 5"
Weight: 36.9 oz.
Features: Stainless w/Nitron.Lightweight trigger. Fiber Optics. 2 Mags
Condition: New In Box
Price: 1,459 Credit, $1,430 Cash. $30 Shipping by UPS Air

Contact us about this product.
New! The return of a classic! The Sig Sauer P210 Target takes the precision of its 1947 Swiss predecessor and greets it with new sleek, custom walnut target grips, a precision-machined stainless steel slide and frame, and a lightweight target trigger. These updated features pay homage to the original craftsmanship and bring it to a more competitive target shooting level. Meant to balance well in one hand or two, this P210 Target is chambered in 9mm and comes with both adjustable rear and fiber optic front sights. Also included are two 8 round steel magazines.