THE GUN ROOM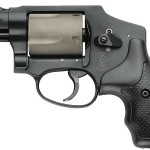 See full-sized image.
Back in Stock! Smith & Wesson 163062 340 PD 357 Mag 1.87″ 5rd Scandium Frame Titanium Cylinder Hiviz Sight Synthetic Grip Black
Status:
In Stock as of July 4, 2022
Category: Handguns
Brand: Smith & Wesson
Keywords: 357 Mag, Revolver, Scandium, Smith, Titanium, Wesson
Manufacturer SKU: 163062
Caliber: 357 Mag / 38 Spl
Number of rounds: 5
Barrel length: 1.87"
Weight: 11.4 oz.
Features: Scandium Frame / Titanium Cylinder. HiViz Sight. 11.4 ounces
Condition: New In Box!
Price: $999 credit, $979 cash! $30 Shipping by UPS Air

Contact us about this product.
BACK IN STOCK – BEST CARRY REVOLVER OF THE S&W LINE! Smith & Wesson combined the highest technologies with the eternal ultra-reliable revolver in a hammerless version with a scandium alloy frame and a titanium cylinder; building the strongest and lightest weight .357 Magnum revolver ever made (11.4 ounces!). Perfect police backup, concealed carry on the wait pocket or purse! This is the Model 340PD, maximum power in a small, lightweight, strong and easy to carry package that delivers dependable power every time. This revolver have the effective HiViz front sight! Snag-free hammerless design!