THE GUN ROOM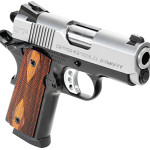 See full-sized image.
NEW! Springfield PI9240LP 1911 EMP 40 S&W 3″ 8+1 Cocobolo Wood Grips Black Frame/Stainless Steel Slide – Night Sights
Status:
In Stock as of May 6, 2021
Category: Handguns
Brand: Springfield
Keywords: 40S&W, EMP, Springfield
Manufacturer SKU: PI9240LP
Caliber: 40 Smith & Wesson
Number of rounds: 8+1
Barrel length: 3"
Weight: 33 oz.
Features: 3-Dot Combat Fixed Tritium Sights. 3 Mags. Holster. Two Tone
Condition: New In Box!
Price: $1,079 credit, 1,057 cash!

Contact us about this product.
We always wanted a scaled-down 1911 designed for the new efficient high pressure calibers like the 9mm and 40 S&W: Get a good look at a whole new class of pistol: the short action 1911. This Springfield Armory 9MM Enhanced Micro Pistol (EMP) is the first production 1911 made from the ground up to shoot either 9mm or 40 Smith & Wesson cartridges. The result? The smallest most concealable 1911 you can buy. 8+1 rounds. Combat night sights. Beautiful two-tone with Cocobolo Wood Grips! PACKAGE INCLUDES THREE MAGAZINES, GUN HOLSTER AND MAGAZINE HOLSTER!