THE GUN ROOM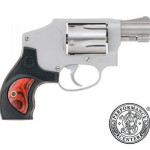 See full-sized image.
Back in Stock! Smith & Wesson 10186 Mod 642 PERFORMANCE CENTER – 1.875 in 5 Rd 38 Special+P – Hammerless DAO – PC Tuned Alloy/Stainless
Status:
In Stock as of July 4, 2022
Category: Handguns
Brand: Smith & Wesson
Keywords: 38 Spl, 38 Spl+P, Center, Performance, S&W, Smith, Wesson
Manufacturer SKU: 10186
Caliber: 38 Special + P
Number of rounds: 5
Barrel length: 1.875"
Weight: 15 oz.
Features: DAO Hammerless. Performance Center. Alloy/Stainless
Condition: New In Box!
Price: $619 Credit, $607 Cash! $30 Shipping by UPS Air

Contact us about this product.
A new perfect-to-carry Smith & Wesson! The Model 642 is a variation on the Model 42 Centennial Airweight that integrates the time-tested features of the original with modern advancements and competition specifications and features. Performance Center firearms are top performers; the ultimate expression of old-world craftsmanship and modern technology. This Enhanced Action Performance Center model is +P rated and double action only with a snag-free enclosed hammer. It features a subtle two-tone silver finish with a matte aluminum alloy frame and stainless steel barrel along with a high bright polished finish on the stainless steel cylinder which is set off by the custom black synthetic grip with wood inserts. Weights only 15 ounces!
Features
• Performance Center Tuned Action
• High Bright, Polished Cylinder Flutes
• High Bright, Polished Thumbpiece and Side Plate Screws
• Custom, Synthetic Grip with Wood Inserts
• Chrome-Plated, Polished Trigger
• Cylinder Cut for Full Moon Clips
(PLEASE CLICK PICTURES FOR MORE RESOLUTION)