THE GUN ROOM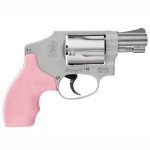 See full-sized image.
New! Smith and Wesson 150466 Model 642 Airweight 38 Special +P 1.88 inches 5 rounds Pink Synthetic Grip Stainless and Silver Aluminum Finish (includes black grips too)
Status:
In Stock as of January 29, 2022
Category: Handguns
Brand: Smith & Wesson
Keywords: 38 Spl, 38 Spl+P, 642, Airweight, Pink, Revolver, S&W, Smith, Wesson
Manufacturer SKU: 150466
Caliber: 38 Special or +P
Number of rounds: 5
Barrel length: 1.88"
Weight: 14.6 oz.
Features: Light weight. Stainless finish. Pink or Black grips.
Condition: New In Box!
Price: $519 Credit, $509 Cash! $30 Shipping by UPS Air

Contact us about this product.
Smith & Wesson J-Frame revolver is designed to fire a full power round and is as simple and easy to use as it is reliable. The Model 642, is a variation of the Model 42 Centennial Airweight which integrates the time-tested features of the original with modern advancements. It is a small-frame, concealed-hammer revolver for concealed carry. This model has an aluminum alloy frame, stainless steel barrel and cylinder, integral front and fixed rear sights, and pink synthetic grip (includes a second set of black grips).
PLEASE CLICK ON PICTURES FOR MORE RESOLUTION!