THE GUN ROOM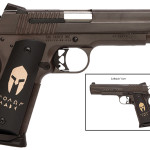 See full-sized image.
New! SIG 1911 SPARTAN – 45 ACP 5″ 8+1 – Bronze Nitron Finish – Hogue Spartan Grips "Molon Labe" on Slide and Grips and Spartan Helmet on Grips
Status:
In Stock as of May 6, 2021
Category: Handguns
Brand: Sig Sauer
Keywords: 1911, 45 ACP, Sauer, Sig, Spartan
Manufacturer SKU: 191145SPARTAN
Caliber: 45 ACP
Number of rounds: 8+1
Barrel length: 5"
Weight: 41.6 oz.
Features: Bronce Nitron Finish. Molon Labe on Grips and Slide.
Condition: New In Box!
Price: $1,211 Credit, $1,187 cash!

Contact us about this product.
The legendary 1911 design has been brought into the 21st century with the refinement today's shooters demand. Sig's 1911 Spartan features an oil rubbed bronze Nitron finish with 24kt gold inlay engraving on the slide and Hogue Spartan grips, both engraved with Ancient Greek "Molon Labe" translated as "Come and Take Them" first time recorded of the use of this expression when the Greeks refused to surrender their weapons to the Persians at Thermopylae. The grips also feature the iconic image of the Spartan helmet on each piece. A skeletonized combat hammer and trigger continue the striking look and low profile night sights and black controls set off the clean, distinct 1911 lines American shooters have embraced.