THE GUN ROOM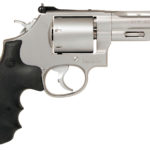 See full-sized image.
New Model! Smith & Wesson 11759 PERFORMANCE CENTER® 686 357 Mag 4″ 6rd – Adjustable Sight – Unfluted and Ribbed – Stainless
Status:
In Stock as of July 4, 2022
Category: Handguns
Brand: Smith & Wesson
Keywords: 357 Mag, 686, Center, Performance, Smith, Wesson
Manufacturer SKU: 11759 (Manufacturer Link)
Caliber: 357 Magnum
Number of rounds: 6
Barrel length: 4"
Weight: 37.9 oz.
Features: Please see specs!
Condition: New In Performance Center Box!
Price: $879 credit, $861 cash! $30 Shipping UPS Air

Contact us about this product.
New Model – A Performance Center version of the superb 686 Model!
Smith & Wesson's Performance Center is the ultimate expression of old-world craftsmanship blended with modern technology. The 686 model in 357 Magnum comes with Performance Center's unfluted cylinder, chrome teardrop hammer, cylinder cut for Moonclips, and PC tuned action. Performance Center gun case. S&W Lifetime Service.
Features
• Performance Center® Speed Release Thumbpiece
• Vented, Ribbed Barrel
• Interchangeable Front Sight – Orange Front Sight Included
• Unfluted Cylinder
• PC Tuned Action
• Chromed Trigger with Trigger Stop
• Chromed Custom Teardrop Hammer
PLEASE CLICK PICTURE FOR MORE RESOLUTION!