THE GUN ROOM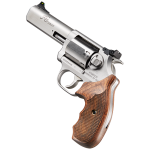 See full-sized image.
New! Kimber K6S DASA TARGET GFO – 4 inches – 357 Magnum – Brushed Finish Stainless Steel – 6-Shot -Adjustable Fiber Optic Sight – Walnut 3 Finger Combat Grip Grip
Status:
In Stock as of March 21, 2023
Category: Handguns
Brand: Kimber
Keywords: 357 Mag, 38 Spl, DA/SA, GFO, K6s, Kimber, Revolver, stainless, Target
Manufacturer SKU: 3700032 (Manufacturer Link)
Caliber: 357 Magnum / 38 Spl
Number of rounds: 6
Barrel length: 4"
Weight: 29 oz.
Features: Brushed Stainless Steel. DASA. Fiber Optic Sights.
Condition: New In Box with Carry Pouch!
Price: $989 Credit! $30 Shipping by UPS Air!

Contact us about this product.
Finally here! A must-have for revolver precision shooters!
A compact but full 4 inches Double / Single Action version to the revolutionary Kimber K6S. On this version there is no compromise between potential accuracy and size!
The K6s (DASA) is the next evolution of the Kimber revolver product line that takes the acclaimed K6s system and outfits it with a double and single action trigger mechanism. The platform maintains the benefits of the original K6s such as the outstanding double action trigger pull, compact envelope, and six shot capacity but with the added advantage of a single action trigger. The 4″ Target GFO (Green Fiber Optic) model features an extended combat grip with finger grooves and a target adjustable rear sight for pinpoint accuracy with any loading. "Let Kimber re-introduce you to the revolver."
SPECIFICATIONS
Height (inches): 5.25
Weight (ounces): with empty cylinder: 29
Width (inches): 1.39
Length (inches): 8.62
Cylinder capacity: 6
Action: DA/SA
FRAME
Material: Stainless Steel
Finish: Engraved over Brushed Stainless
Serrated backstrap
BARREL
Length (inches): 4
Material: Stainless Steel
Finish: Engraved over Brushed Stainless
SIGHTS
Compact Target Adjustable
Radius (inches): 6.2
GRIPS
3 Finger Combat Grip
Diamond Checkering
TRIGGER
Non-Stacking
Double Action Factory setting (approx. pounds): 9.5 – 11.5
Single Action Factory setting (approx. pounds): 3.25 – 4.25
PRODUCT CODE
Product #: 3400032
UPC: 669278340326
PLEASE CLICK PICTURES FOR MORE RESOLUTION!