THE GUN ROOM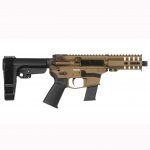 See full-sized image.
New! CMMG MkG Banshee 300 Pistol, 45 ACP, 5″ Barrel, Aluminum Frame, Burnt Bronze Cerakote, 13Rd, CMMG RipBrace Pistol Brace, Thread Protector, CMMG RML4 Hand Guard, Magpul MOE Pistol Grip, Ambi Sling Plate, Ambi Selector, Ambi Charging Handle, 1 Glock 45ACP 13Rd Magazine
Status:
In Stock as of December 2, 2021
Category: Handguns
Brand: CMMG
Keywords: 45 ACP, Banshee, Bronze, CMMG, MkG, Pistol
Manufacturer SKU: 45A691C-BB (Manufacturer Link)
Caliber: 45 ACP
Number of rounds: 13+1
Barrel length: 5"
Weight: 4.7 lbs.
Features: 19 inch total length. Collapsible Brace. Threaded
Recommended Scope: Trijicon MRO or Aimpoint T1/T2
Condition: New In Box!
Price: $1,529 Credit, 1,498 Cash $50 Shipping (oversized)

Contact us about this product.
The Banshee is the featherweight of CMMG's lineup, with the shortest barrels in their caliber. Its design gives you the firepower you need in a compact and lightweight platform, ideal for plinking, competition shooting, and serious personal protection. The Banshee features a CMMG Micro/CQB RipBrace, Magpul MOE pistol grip, and RML handguard with a top rail and M-Lok at the 3, 6, and 9 o'clock locations. It has a mil-spec, single-stage trigger, and ambidextrous charging handle, selector, and sling plate. Banshee pistols feature a premium Cerakote finish on the receivers and handguard. The MKGS Banshee 300 in 45 ACP has forged upper and lower 7075-T6 aluminum receivers. This model has a Midnight Bronze cerakote finish, 5″ black nitride barrel, CMMG Ambidextrous charging handle, laser engraving on the lower receiver, and includes a 13-round Glock magazine.
SPECS:
CALIBER: 45ACP
BARREL: 5″ MT 4140CM SBN, 45ACP
MUZZLE: Thread Protector, Threaded .578-28
GAS PORT LOCATION: N/A
RECEIVER: Forged 7075-T6 AL M4 type upper, Forged 7075-T6 AL Lower
HAND GUARD: CMMG RML4 M-Lok hand guard
FINISH: Cerakote Burnt Bronze
CHARGING HANDLE: CMMG Oversized Ambi
PISTOL GRIP: Magpul MOE
PISTOL BRACE: CMMG Micro/CQB RipBrace with 5 Position Enhanced Receiver Extension and Ambi Sling Plate
TRIGGER: CMMG Single stage mil-spec style trigger
TRIGGER GUARD: Integrated Into Lower
SAFETY SELECTOR: CMMG Ambi
MAGAZINE: SGM Glock Compatible 26rd
WEIGHT: 4lbs 9oz (unloaded)
LENGTH: 19.2″ (brace collapsed)