THE GUN ROOM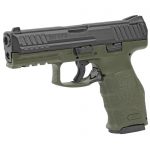 See full-sized image.
New 2021 Version! Heckler & Koch 81000234 9mm w/3 17 rd Mags DA/SA 9mm 4.1″ 17+1 Night Sights Interchangeable Polymer Grip – Rail – Black Slide & Green Frame
Status:
In Stock as of July 4, 2022
Category: Handguns
Brand: Heckler & Koch
Keywords: 9mm, Hecker, Koch, Night Sights, VP9
Manufacturer SKU: 81000234 (Manufacturer Link)
Caliber: 9 mm
Number of rounds: 17+1
Barrel length: 4.1"
Weight: 25.6 oz.
Features: Night Sights. Intercheang. Grips. 3 Magazines. Green Frame
Condition: New In Box!
Price: $789 credit, $773 cash! $30 Shipping by UPS Air

Contact us about this product.
NEW 17 rd version from Heckler & Koch!: "A better mousetrap", "better Glock than the Glock" The VP9 uses HK's ergonomic handgun grip design that includes three changeable backstraps and six side panels. Molded finger grooves in the front of the pistol's grip also instinctively position an operator's hand for optimal shooting. All controls are completely ambidextrous, slide releases are present on both sides of the frame and magazine release can be easily activated by left or right handed shooters. Pistol features an extended Picatinny MIL-STD 1913 rail molded into its polymer frame for mounting lights and accessories. The VP9 uses the proven P30 steel magazine, now with 17 round capacity. The trigger has a consistent pre-travel pull with a positive wall/crisp break. Shooter has a less than noticeable pre-travel pull until the trigger reaches the engagement point of the fire control parts prior to trigger break. This new VP9 version ships with 3 17-round magazines and Night Sights.
PLEASE CLICK ON PICTURES FOR MORE RESOLUTION!