THE GUN ROOM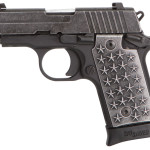 See full-sized image.
Status:
In Stock as of August 16, 2017
Category: Handguns
Brand: Sig Sauer
Keywords: P238, Pink, Sauer, Sig, We The People
Manufacturer SKU: 238-380-WDP
Caliber: 380 ACP
Number of rounds: 7+1
Barrel length: 2.7"
Weight: 15.2 oz.
Features: "We The People" and "1776" markings. Distressed Finish.
Condition: New in Box!
Price: $609 Credit, 597 Cash! $30 Shipping by UPS

Contact us about this product.
A very special limited edition of this popular min-gun! The P238 is just a fraction of the size of Sig's full-size pistols. It has an overall length of just 5.5″, height of 3.9″, and weight of just 15.2 ounces. the P238 is the ultimate firepower in an all metal frame concealed pistol. The sear and trigger return spring are redesigned to prevent spring over-ride of the ejector during assembly. The stainless steel slide features Sig Sauer's trademarked slide serrations. The frame is constructed of an anodized aluminum alloy with a beavertail style.  Is a fitting tribute to the Second Amendment, We The People is uniqulely American and fully equipped for modern day use with a skeletonized hammer and contrast sights. This model features custom aluminum grips adorned with 50 stars (25 per side) representing each state in the union. A distressed finish on the stainless steel slide includes patriotic engravings, such as 13 stars atop the slide with "WE THE PEOPLE" and "1776" on the slide flats.


See full-sized image.
Status:
In Stock as of August 16, 2017
Category: Rifles
Brand: Windham Weaponry
Keywords: 223, AR, semiauto, SRC, We The People, Weaponry, Windham
Manufacturer SKU: R16M4FTTC9
Caliber: 5.56 NATO / 223 Rem
Number of rounds: 30+1
Barrel length: 16"
Weight: 7.0 lbs.
Features: "We The People" Coated. Optics Ready. 6-position Stck. Sling
Recommended Scope: Trijicom MRO
Condition: New In Hard Case!
Price: Special Price $729, $30 Shipping by UPS.

Contact us about this product.
Founded by former Bushmaster employees Windham Weaponry keeps surprising AR fans with the quality and affordability of their products. To showcase the firms capabilities Windham introduced in the recent NRA Show a Limited Edition of the popular Windham Weaponry's SRC in 223/5.56 NATO Fully coated with a commemorative "We The People" cammo pattern. It comes in a hard case equipped with a 6-position buttstock, mid-length heat shield hand guards, sling and one 30 round magazine. This semi-automatic rifle is powered by a mid-length gas impingement system.
PLEASE CLICK PICTURES FOR MORE RESOLUTION!