THE GUN ROOM

See full-sized image.
Status:
In Stock as of March 22, 2018
Category: Handguns
Brand: Sig Sauer
Keywords: 238, 380 ACP, Flag, P238, Sauer, Sig, Sig Sauer, Texas
Manufacturer SKU: P238-380-txf
Caliber: 380 ACP
Number of rounds: 7+1 and 6+1
Barrel length: 2.7"
Weight: 15.2 oz.
Features: Texas Flag/Map and Star motif. Night Sights. Two magazines!
Condition: New in Box!
Price: $669 Credit, $656 Cash! $30 Shipping by UPS Air

Contact us about this product.
Limited Edition! No real Texan should get caught without one 🙂
The most compact pistol in the Sig Sauer product line, the Sig Sauer Limited Edition TEXAS FLAG P238 is just a fraction of the size of Sig's full-size pistols. A smart looking, small handgun built with the same accuracy and reliability as large frame Sig pistols, the P238 has an overall length of just 5.5″, height of 3.96″, and weight of  just 15.2 ounces. It is the ultimate firepower in an all metal frame concealed pistol. The stainless steel slide features Sig Sauer's trademarked slide serrations, a two-tone FDE with the Texas flag in both sides and the Texas map on top, fine black grips with the Texas Star and Siglite night sights. The P238 is shipped in a lockable hard case and two magazines: an extended 7-round  and a flush 6-round.
PLEASE CLICK PICTURES FOR MORE RESOLUTION!

See full-sized image.
Status:
Coming Soon as of March 22, 2018
NOVEMBER DELIVERY
Category: Handguns
Brand: Kimber
Keywords: Edition, Kimber, Micro 9, Micro9, Special, Texas
Manufacturer SKU: 3700468
Caliber: 9mm
Number of rounds: 7+1
Barrel length: 3.15"
Weight: 15.6 oz.
Features: Please read description!
Condition: New in Box!
Price: $879 $30 Shipping by UPS Air

Contact us about this product.
This is a Limited Edition of 1836 units of a beautiful crafted version of the popular Kimber Micro9 Pistol!
Special Features:
• Special serial range with MTXE prefix
• Highly polished flats on slide with deep hot blued finish
• Western leaf and scroll engraving with saw tooth border on slide
• Accent-engraved mainspring housing
• Bonded ivory grips with 1835 motto "Come and Take It" on left panel and State of Texas with state flag insert on right panel
About the Kimber Micro9:
Released in the 2017 NRA show: the Kimber Micro 9 is just slightly bigger that the popular Micro 380. Micro9 slides are made to the tightest allowable tolerances, with barrels machined from stainless steel for superior resistance to moisture. All Micro 9 frames are shaped from the finest aluminum for integrity and strength. In many respects a miniature 1911, among the most important Micro 9 design advantages is a single action trigger with the kind of short, smooth pull that ensures accuracy and builds confidence. The thumb safety, slide release and magazine release are pure 1911 as well. Standard features include a lowered and flared ejection port for flawless ejection and a beveled magazine well for fast, positive loading. Sights are steel – not plastic – and mounted in machined dovetails for additional integrity.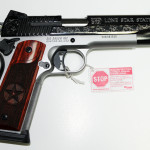 See full-sized image.
Status:
In Stock as of March 22, 2018
Category: Handguns
Brand: Sig Sauer
Keywords: 45 ACP, Sauer, Sig, Silver, Texas
Manufacturer SKU: 1911-45-TXS
Caliber: 45 ACP
Number of rounds: 8+1
Barrel length: 5"
Weight: 39 oz.
Features: Special Engraving and Etching. Night Sights. 2 Mags.
Condition: New In Box!
Price: $1,299 credit, $1,273 cash! $30 Shipping

Contact us about this product.
BACK IN STOCK – A GREAT COLLECTABLE AND SHOOTER GETTING HARDE AND HARDER TO FIND! The 1911 pistols from SIG SAUER® feature all stainless steel frames and slides machined to exacting tolerances and hand-fitted to insure reliability and performance. Like all SIG SAUER products the 1911 contains only premium internal parts including a match grade barrel, hammer/sear set and trigger. The slide sports Novak® night sights. The frame features 25-line per inch checkering on the front strap and 20-line per inch on the mainspring housing and is complimented by a set of checkered custom wood grips. Both the frame and slide on the 1911 are de-honed making it ideal for perfect full-size concealed carry. For safety the SIG SAUER 1911 features a beavertail grip safety with speed bump, extended thumb safety, firing pin safety and hammer intercept notch
The "Texas Edition SILVER" commemorative styling includes a natural stainless steel frame with polished Nitron stainless slide with scrollwork engraving, Silver inlayed engraving with "Texas has yet to learn suppression to any oppression" Sam Houston on the left side of the slide. and, "The Lone Star State" on the right, an outline of the great state of Texas etched onto the top rear of the slide, and custom textured rosewood grips embellished with the "Lone Star"!