THE GUN ROOM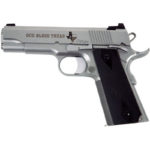 See full-sized image.
Status:
In Stock as of January 26, 2020
Category: Handguns
Brand: CZ - Dan Wesson
Keywords: 10 mm, CZ, Dan, Dan Wesson, Texas, Valor, Wesson
Manufacturer SKU: 01869S
Caliber: 9mm
Number of rounds: 9+1
Barrel length: 4.25"
Weight: 38.8 oz.
Features: Limited Texas Edition. All Stainless.
Condition: New In Box!
Price: $1,219 Credit, $1,195 Cash! $30 Shipping UPS Air

Contact us about this product.
New – Limited Texas Edition! The CZ-USA Dan Wesson Valor Commander Texas Edition is a special edition pistol designed as an outstanding example of the iconic John Moses Browning 1911 pistol design. This model features a Stainless Steel Commander sized frame and Stainless Steel slide both featuring a matte glass bead finish. It comes standard with a 4.25″ match grade barrel and fixed tritium sights. The single stack magazine features an 9 round capacity with a manual thumb safety and grip safety. The Valor is loaded with features, including a forged frame with 25 LPI checkering front and back, an undercut trigger guard, tactical ledge night sights, G10 grips, EGW carry bevel bushings as well as our tool-steel fire controls and other premium small parts. Every piece that goes into the Valor series is hand-fit, polished and blended to provide you with not only the best functioning gun we can provide, but also the best looking.

See full-sized image.
Status:
In Stock as of January 26, 2020
Category: Handguns
Brand: Sig Sauer
Keywords: 1911, 45 ACP, Gold, Sauer, Sig, Texas
Manufacturer SKU: 1911-45-TXG
Caliber: 45 ACP
Number of rounds: 8+1
Barrel length: 5"
Weight: 39 oz.
Features: Special Engraving and Etching. Night Sights. 2 Mags.
Condition: New In Box!
Price: $1,599 credit, $1,567 cash! $30 Shipping by UPS

Contact us about this product.
BACK IN STOCK! A POTENTIAL PRICED COLLECTIBLE!
The 1911 pistols from SIG SAUER® feature all stainless steel frames and slides machined to exacting tolerances and hand-fitted to insure reliability and performance. Like all SIG SAUER products the 1911 contains only premium internal parts including a match grade barrel, hammer/sear set and trigger. The slide sports Novak® night sights. The frame features 25-line per inch checkering on the front strap and 20-line per inch on the mainspring housing and is complimented by a set of checkered custom wood grips. Both the frame and slide on the 1911 are de-honed making it ideal for perfect full-size concealed carry. For safety the SIG SAUER 1911 features a beavertail grip safety with speed bump, extended thumb safety, firing pin safety and hammer intercept notch
The "Texas Edition GOLD" commemorative styling includes a natural black stainless steel frame with polished Nitron stainless slide with scrollwork engraving, Gold inlayed engraving with "THE ENEMY NEVER SEES THE BACKS OF MY TEXANS" GENERAL ROBERT E. LEE (*) on the left side of the slide and "THE LONE STAR STATE" on the right, an outline of the great state of Texas etched in gold onto the top rear of the slide, and custom textured rosewood grips embellished with the "Lone Star"!
(*) there has been discussion about discontinuing this model because politically correctness regarding General Lee, this gun may become quite a collectible.

See full-sized image.
Status:
In Stock as of January 26, 2020
Category: Handguns
Brand: Sig Sauer
Keywords: 938, Flag, P938, Sauer, Sig, Sig Sauer, Texas
Manufacturer SKU: 938-9-TXF-AMBI
Caliber: 9 mm
Number of rounds: 8+1 and 7+1
Barrel length: 3"
Weight: 16 oz.
Features: Texas Flag/Map and Star. Night Sights. Ambi. Two magazines!
Condition: New in Box!
Price: $709 Credit! $30 Shipping by UPS Air

Contact us about this product.
Limited Edition! No real Texan should get caught without one 🙂
The smallest 9mm pistol in the Sig Sauer product line, the Sig Sauer Limited Edition TEXAS FLAG P938 is just a fraction of the size of Sig's full-size pistols. A smart looking, small handgun built with the same accuracy and reliability as large frame Sig pistols, the P938 has a three inch barrel and weights only 16 ounces. It is the ultimate firepower in an all metal frame concealed pistol. The stainless steel slide features Sig Sauer's trademarked slide serrations, a two-tone FDE with the Texas flag in both sides and the Texas map on top, fine black grips with the Texas Star and Siglite night sights. The P938 is shipped in a lockable hard case and two magazines: an extended 8-round  and a flush 7-round.
PLEASE CLICK PICTURE FOR MORE RESOLUTION!