THE GUN ROOM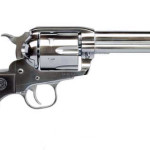 See full-sized image.
Status:
In Stock as of June 5, 2020
Category: Handguns
Brand: Ruger
Keywords: 44 Mag, 44 Spcl, Ruger, TALO, Vaquero
Manufacturer SKU: 10597
Caliber: 44 Mag
Number of rounds: 6
Barrel length: 5.5"
Weight: 40 oz.
Features: Hi Gloss Stainless Steel. Black Micarta grips. TALO
Condition: New in Box
Price: $719 Credit, 705 Cash. $30 Shipping by UPS Air!

Contact us about this product.
New! Ready to become a Cowboy Action, Self-Defense or recreational shooting favorite! Since its introduction in 1993, the Ruger Vaquero has dominated the cowboy action shooting world and earned its reputation for rugged reliability due to its strength and mechanical superiority. This special TALO version is chambered in 44 Magnum or 44 Special providing versatility for self-defense or hunting with the magnum load or low recoil for plinking or Cowboy Action competition with 44 Special loads. Is finished in High-Polish Stainless Steel and has high-quality black Micarta grips!

See full-sized image.
Status:
In Stock as of June 5, 2020
Category:
Brand: NAA
Keywords: 22LR, American, Arms, Box, Bug, Nort, Out, TALO
Manufacturer SKU: M22LRTBX
Caliber: 22 LR
Number of rounds: 5
Barrel length: 1.12"
Weight: 4.25 oz.
Features: Stainless Steel. Tritium Front Night Sight. Waterproof Case.
Condition: New in Box and Watherproff Case
Price: $259 Credit $254 Cash $30 ShIpping by UPS Air

Contact us about this product.
The NAA TALO Exclusive Bug Out Box is specifically assembled for emergency preparedness. It contains a unique NAA .22 LR Mini Revolver that is a diminutive pistol which delivers a bite much worse than its bark! This pistol includes the time tested characteristics that are incorporated in all NAA mini revolvers. It can be used with all popular .22 Long Rifle ammo, including .22 LR shot shells or 'snake shot'. These Mini Revolvers can now boast greatly enhanced stability and accuracy for the shooter. This pistol has a lightening cuts to the frame and barrel, with Hogue orange rubber pebble texture grips, a safety notched cylinder and an XS Tritium sight. It comes in a lockable case with a lanyard and enough room for a box of ammo. Sized perfectly for your BOB or Get Home Bag and a perfect fit for a hiking pack, it's the ideal emergency pistol. 

Specifications and Features:
North American Arms TALO Bug Out Box NAA-M-22LR-TBX 
TALO Exclusive Mini Revolver Limited Run of 1,500 
.22 Long Rifle 
1.12″ Ported Barrel
5 Rounds 
Safety Notched Cylinder
Single Action
17-4pH Stainless Steel Frame
Sheriff Style Cylinder Pin 
Hogue Orange Rubber Grips
XS Tritium Front Sight
Overall Length 4.56″ 
Height 2.81″ 
Width 1.06″ 
Weight 4.25 Ounces 

Includes:
Lockable Waterproof Case 
PLEASE CLICK PICTURES FOR MORE RESOLUTION!
Next »