THE GUN ROOM

See full-sized image.
Status:
In Stock as of January 18, 2021
Category: Handguns
Brand: Kimber
Keywords: 9mm, CDP, EVO, EVO SP, Kimber, Night Sights, Striker
Manufacturer SKU: 3900011 (Manufacturer Link)
Caliber: 9mm
Number of rounds: 7+1
Barrel length: 3.2"
Weight: 18 oz.
Features: Night Sight. Meld Treatment. 7 Rounds - 2 Mags
Condition: New In Box!
Price: $829 Credit! $30 Shipping by UPS Air!

Contact us about this product.
Back in Stock!
Designed to be the ultimate choice in concealed carry pistols, EVO SP (Striker Pistol) was tailored by Kimber engineers to be the best shooting and most well equipped compact metal framed pistol on the market. Not only was EVO SP machined to the tightest allowable tolerances it was also put through multiple iterations of hands-on human factors testing to ensure the best possible user experience before finalizing the design. Standout features include an innovative grip system that eliminates hardware on the grip surface, a magazine release that can be configured for right or left-handed shooters, a striker indicator that allows for both a visual and physical confirmation the striker is cocked, ledged night sights for single hand manipulations and a sight picture no matter the light conditions, and a 6-7lb trigger with crisp reset. EVO SP is the ideal choice for shooters that demand a feature packed, compact size striker-fired firearm matched with all metal construction.
The EVO SP (CDP) (Custom Defense Package) combines all of the premium features of the EVO SP Two-Tone such as beveled magazine well, deep crown barrel and TRUGLO Tritium PRO but with the added streamline carry melt treatment for improved draw and reduced chance of snagging on clothing. The EVO SP (CDP) also feature a set of heavy duty G10 grip panels and backstrap with diamond checkering for better purchase. The EVO SP (CDP) ships with two 7 round magazines.
Note from The Scopesmith: After discontinuing the Kimber Solo, that was a very successful pistol but very picky with ammo, Kimber took two years to develop the EVO mechanism to be everything the Solo was intended to be. Tests of the EVO show high reliability with all brands and grain weight of 9mm ammo and the new EVO is more ergonomic and safe than the Solo.
PLEASE CLICK PICTURES FOR MORE RESOLUTION!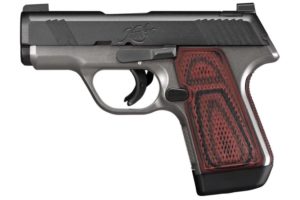 See full-sized image.
Status:
In Stock as of January 18, 2021
Category: Handguns
Brand: Beretta
Keywords: 9mm, APX, Beretta, MHS, Striker
Manufacturer SKU: JAXF921 (Manufacturer Link)
Caliber: 9 mm
Number of rounds: 17+1
Barrel length: 4.25"
Weight: 28.2 oz.
Features: Striker Fired. Adjustable Backstraps.
Condition: New in Box!
Price: $499 Credit, $489 Cash! $30 Shipping by UPS Air

Contact us about this product.
New 2017 Model! Beretta entry to the Modular Handgun System (MHS) competition! Now Beretta fans can forget about the "striker envy"! Designed specifically for military and law enforcement operators, the APX has been put through extensive testing and evaluation at the professional end user level. The result is a pistol that delivers superior performance in durability and reliability, ergonomics, trigger, and modularity. Utilizing a removable, serialized chassis frame, the APX can be easily modified with replaceable grip frame housings and is simple to disassemble and maintain.
Each APX comes with 3 interchangeable back straps so users can best fit their hands and preferences. The APX's aggressive full length slide serrations make slide manipulations easy under any conditions . To accommodate right or left-handed use, the APX's magazine release button can be easily reversed, and the slide stop is ambidextrous.
The APX's trigger breaks with a clear tactile and audible very short reset. The APX truly is the ultimate striker fired pistol from Beretta.
From The Scopesmith: Impressed with the aggressive grip position that promises a very controlled and comfortable shooting, also with the "crispest" trigger break we have feel among the striker guns.