THE GUN ROOM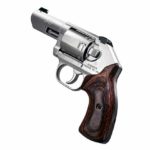 See full-sized image.
Status:
In Stock as of October 18, 2017
Category: Handguns
Brand: Kimber
Keywords: 357 Mag, 38 Spl, 3in, K6s, Kimber, Revolver, stainless
Manufacturer SKU: 3400011 (Manufacturer Link)
Caliber: 357 Magnum / 38 Spl
Number of rounds: 6
Barrel length: 3"
Weight: 25 oz.
Features: Stainless Steel. Match grade trigger. Smooth Walnut Grips.
Condition: New In Box!
Price: $789 Credit! $30 Shipping by UPS Air!

Contact us about this product.
New – Summer of 2017! Now with better sight ratio and slightly larger grips for increased shootability!
From Kimber: "KIMBER HAS EVOLVED THE REVOLVER"
The K6s™ revolver brings an unmatched level of performance and shootability to concealed carry.
With the smallest cylinder capable of holding 6 rounds of .357 Magnum (also compatible with .38 Special), K6s compact revolvers are ideal for back-up, concealed carry and home defense.
This new Kimber K6s' small frame, three-inch barrel and 1.39 inch diameter cylinder are machined from the finest stainless steel for superior integrity, strength, and resistance to the elements. The Kimber K6s offers other important design features, such as: a smooth match-grade trigger that creates confidence while helps ensure accuracy, further enhanced on this model by its 3-inch barrel that provides a larger sight ratio; an internal hammer and edges that are rounded and blended to help prevent a hang up when the revolver is removed from concealment; superior ergonomics and grip design in a slightly larger beautiful polished walnut grips that creates an extremely shooter-friendly experience; and an all stainless steel construction weighing in at 25 ounces.
For those who require a small package with mild recoil, K6s provides the power needed for concealed carry, home protection and many other applications. Best of all, they offer unequaled Kimber quality, dependability and performance.
Let Kimber re-introduce you to the revolver."
PLEASE CLICK PICTURES FOR MORE RESOLUTION!

See full-sized image.
Status:
In Stock as of October 18, 2017
Category: Rifles
Brand: Sako / Tikka / Beretta
Keywords: 6.5 Creedmoor, CTR, stainless, T3, T3x, threaded, Tikka
Manufacturer SKU: JRTXC382CAS
Caliber: 6.5 Creedmoor
Number of rounds: 10+1
Barrel length: 24"
Weight: 8.0 lbs.
Features: Cmpct Tact. Threaded, Picattinny Rail. 10 rd Mag. Stainless
Recommended Scope: Nigrforce NSX or SHV. Swarovski Z5, X5 or Z8.
Condition: New in Box
Price: $1,049 Credit, $1028 Cash. $30 Shipping by UPS.

Contact us about this product.
BACK IN STOCK! This Tikka T3x CTR (Compact Tactical Rifle) model is chambered in 6.5 Creedmoor and has a 24 inch barrel. This Tikka CTR features a black synthetic stock, stainless steel barrel, 10 round magazine and integrated Picatinny rail.
The Tikka T3x is the next generation of the renowned T3 rifle. These new T3x rifles are built to the same standards that so many have come to rely on from the original T3, with a hammer forged barrel, sturdy stocks, and smooth bolt actions. They offer a 3-shot sub-MOA accuracy guarantee right out of the box, and represent the great value of the Tikka rifle line.
Some new features that set the T3x apart from the T3 version are the following:
24 inch barrel 1:8 twist. Stainless Steel – Threaded 5/8×24
Modular synthetic stock allows the pistol grip to be changed out for a more personalized and comfortable fit.
Improved asymmetrical grip pattern and shape that will better accommodate grip in any condition.
Upgraded recoil pad to mitigate felt recoil.
Redesigned ejection port that creates easier single feeding through the ejection port.
Improved Picatinny rail.
A robust metallic bolt shroud to cover and shield the rear of the bolt body and firing pin
Steel recoil lug to decrease deformation even in larger calibers compared the aluminum ones in use in T3 rifles.
Tikka has always been considered one of the best values when considering a rifle. The T3x CTR continues and enhances this tradition.

See full-sized image.
Status:
In Stock as of October 18, 2017
Category: Handguns
Brand: Ed Brown Products
Keywords: 45 ACP, Bobtail, Brown, Carry, Ed, Kobra, stainless
Manufacturer SKU: KC-SS-AM-NS (Manufacturer Link)
Caliber: 45 ACP
Number of rounds: 7+1
Barrel length: 4.25"
Weight: 36.5 oz.
Features: Bobtail, Stainless. Night Sights. Ambi. Two magazines.
Condition: New In Ed Brown Soft Case!
Price: $2,995. Free UPS Air Shipping!

Contact us about this product.
The Kobra Carry Stainless is the solution for those who prefer a smaller model 1911, but insist on complete reliability, resistance to the elements and style. The slide has been reduced to the minimum possible (4.25″) without significantly impairing the legendary reliability of the 5″ slide. The frame has been modified with the innovative Ed Brown Bobtail® housing which reduces the projecting butt of the mainspring housing without sacrificing the full size frame and magazine capacity. The Bobtail® minimizes the print under your jacket when carrying and reduces weight. Officer's frames reduce magazine capacity and limit grip, while keeping the projecting, sharp butt. Slides shorter than 4.25″ are notorious for reduced reliability. These problems are eliminated with the Ed Brown Commander Bobtail® configuration, which reflects the genius of John Browning with an innovative modern flair. The functional simplicity has yet to be matched. Unique with the Kobra series pistols is the innovative snakeskin treatment. It is a directional pattern, meaning it is smooth to slide your hand up, but bites in for a snug grip the other way where you need it. It's easier on the hands than checkering, not to mention it just looks cool! The Kobra Carry is an innovative masterpiece, and a serious tool for those who want something a little different. We are sure you'll be charmed by the Kobra Carry! This Kobra Carry features the following:
4.25″ Commander model slide, single stack commander Bobtail® frame. The John Browning traditional design innovatively modified for concealed carry, without significantly detracting from reliability or accuracy.
Weight: 28.4 ounces with an unloaded magazine inserted!
Exclusive snakeskin treatment on forestrap, Bobtail® housing. A beautiful, unique, and snag free gripping surface.
All Stainless Steel for superior rust protection, and improved wear resistance.
Two Magazines
Please click pictures for more resolution!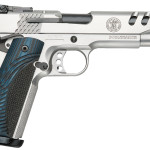 See full-sized image.
Status:
In Stock as of October 18, 2017
Category: Handguns
Brand: Smith & Wesson
Keywords: 1911, 45 ACP, Center, Performance, Smith, stainless, Wesson
Manufacturer SKU: 170343 (Manufacturer Link)
Caliber: 45 ACP
Number of rounds: 8+1
Barrel length: 5"
Weight: 40.5 lbs.
Features: Performance Center. Stainless. Ambi. Adj. Sights.
Condition: New in Performance Center Box.
Price: $1,359 Credit, $1,332 Cash $30 Shipping by UPS Air

Contact us about this product.
Back in Stock – One Unit! When Smith and Wesson decided to produce a 1911 line they took it seriously. This PERFORMANCE CENTER Custom 1911 form Smith & Wesson Center is designed as a duty or carry gun with no compromises and encompasses all the refinement that 21st century technology can do to an early 20th century design. Special features include Performance Center Action that has been smoothed and tuned, 3.5-4 lb. trigger pull, throated barrel with a precision crowned muzzle, hand-lapped frame and side rails, hand-polished feed ramp, Briley spherical barrel bushing, oversized external extractor, ambidextrous frame safety. It has an adjustable rear sight. The slide has ported lighting cuts to reduce weight and recoil. The G10 custom wood grips have 30 lpi checkering and a striking blue and black to compliment the all Stainless Steel construction of the gun. All backed by Smith & Wesson Lifetime Service Policy.

See full-sized image.
Status:
In Stock as of October 18, 2017
Category: Handguns
Brand: Nighthawk Custom - Korth
Keywords: 45 ACP, Bobtail, Nighthawk, Predator, Predator II, stainless
Manufacturer SKU: NHK Predator II BT S (Manufacturer Link)
Caliber: 45 ACP
Number of rounds: 8+1
Barrel length: 4.25"
Weight: 35.8 oz.
Features: Bobtail. Stainless Polished. Night Sights. Ambi.
Condition: New in Nighthawk Soft Case!
Price: $4,295. Free Shipping by UPS Air.

Contact us about this product.
With custom specs, this one in a kind gun may be the best 1911 you ever owned! The Commander-size Predator II (4.25 inches) is a pistol that is unique in its design. Its most distinctive feature is the heavy flanged cone match grade barrel that adds definite advantages to the 1911 design. The extra weight of the heavier-than-standard barrel gives the shooter softer recoil and faster recovery time between shots. The slide is relieved and the barrel is fit so precisely that you'll have a hard time seeing light between the end of the slide and the barrel, yet it never touches.
This version has a full Stainless Steel construction with Polished Flats to make the looks match the gun performance. Bobtailed frame make the gun a pleasure to hold for all sizes of hands. Nighthawk Custom's two-piece magwell, ambidextrous safety upgrade, and stainless steel barrel add a level of solidness that speaks directly to the quality and care that goes into each Predator.
Once you see a Predator II in person, you will immediately understand and appreciate the Predator II and all of its design features.
Nighthawk: One Gun. One Gunsmith.™
Key Features:
All Stainless Steel
Bobtail Frame
Mirror Polished Flats
Heinie Slant Pro Straight Eight Tritium rear sight with Tritium front night sight
Match grade .45 ACP stainless steel coned (wafered) bull barrel
Upgraded Ambi Safety
Thinned Cocobolo Grips with Double Diamond checkering and Nighthawk logo
Nighthawk two-piece Magwell
25 lines per inch checkered front strap and mainspring housing
40 lines per inch serrated rear of slide to match rear sight
Lightweight aluminum Nighthawk Custom tri-cavity trigger
Completely dehorned for comfortable carry
New ultra hi-cut front strap
Checkered recoil spring plug
Two 8 Round Magazines
PLEASE CLICK PICTURES FOR MORE RESOLUTION!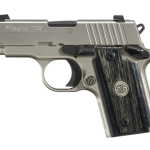 See full-sized image.
Status:
In Stock as of October 18, 2017
Category: Handguns
Brand: Sig Sauer
Keywords: HD, Nickel, P238, Sauer, Sig, stainless
Manufacturer SKU: 238-380-HD-NI
Caliber: 380 ACP
Number of rounds: 6+1
Barrel length: 2.7"
Weight: 20.1 oz.
Features: All Stainless Steel with Nickel PVD Coating. Night Sights
Condition: New in Box!
Price: $629 Credit, 616 Cash! $30 Shipping by UPS

Contact us about this product.
New version of the popular SIG 238 with Stainless Steel Frame and Slide coated with the very resistant Nickel PVD. The extra weight of this version provides strength and additional recoil control. The P238® HD, it's just a fraction of the size of our full-size pistols. A smart looking, small handgun built with the same accuracy and reliability as large frame SIG SAUER pistols. With an overall length of just 5.5 inches a height of 3.96 inches, the SIG SAUER P238 is the ultimate firepower in an all metal frame concealed pistol. The P238 HD is built on an all stainless beavertail style frame with G-10 Polymer grips for comfort and a secure hold during rapid-fire usage. The stainless steel slide features the popular trademarked SIG SAUER slide serrations, G10 grips, and SIGLITE® Night Sights. The new SIG SAUER P238 HD is shipped in a lockable hard case and one 6 round magazine.
| | |
| --- | --- |
| Item Number | 238-380-HD-NI |
| Caliber | .380 ACP |
| Action Type | SAO |
| Trigger Pull DA | N/A |
| Trigger Pull SA | 8.0 lbs |
| Overall Length | 5.5 in |
| Overall Height | 3.9 in |
| Overall Width | 1.1 in |
| Barrel Length | 2.7 in |
| Sight Radius | 3.8 in |
| Weight w/Mag | 20.1 oz |
| Mag Capacity | 6 Rounds |
| Sights | SIGLITE Night Sights |
| Grips | Blackwood Medallion |
| Frame Finish | Nickel PVD Coated Stainless |
| Slide Finish | Nickel PVD Coated Stainless |
Next »