THE GUN ROOM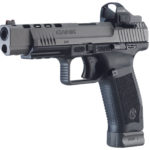 See full-sized image.
Status:
In Stock as of January 18, 2021
Category: Handguns
Brand: Canik - Century Arms
Keywords: 9mm, Arms, CANIK, Century, RMR
Manufacturer SKU: HG3774GVN
Caliber: 9mm
Number of rounds: 20+1
Barrel length: 5.2"
Weight: 30.4 oz.
Features: Vortex Red Dot with plates for other brands. Holster.
Condition: New in Box!
Price: $649 Credit, $636 Cash! $30 Shipping by UPS Air

Contact us about this product.
We were impressed with this new high-value pistols from Canik/Century Arms and decide to carry one their most interesting model: the Canik TP9SFx. The TP9SFx striker fire pistol comes with standard dovetail sight  cuts, single action trigger, and a MIL-STD-1913 Picatinny rail. This model features Warren Tactical sights with a red and green fiber optic front. The rear sight is installed in a removable red dot cover to eliminate interference with certain red dot sights. It includes four red dot interface plates. It has a match grade barrel, loaded chamber indicator, reversible ambidextrous cocking lever, extended ambidextrous slide stop, and reversible magazine catch with two additional sizes. It includes two magazines, polymer holster with paddle/belt attachment, interchangeable backstraps, cleaning rod, and a brush. his TP9SFx has a black polymer frame, a Tungsten Gray Cerakoted slide with forward slide serrations and lightning cuts, and a Vortex Viper Red Dot.
PLEASE CLICK ON PICTURES FOR MORE RESOLUTION!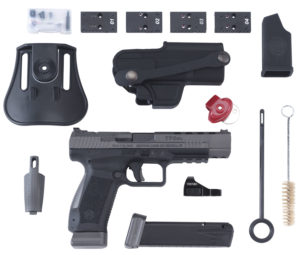 See full-sized image.
Status:
In Stock as of January 18, 2021
Category: Handguns
Brand: Springfield
Keywords: 9mm, Armory, Optics, OSP, RMR, Springfield, XD, XDM
Manufacturer SKU: XDM9459BHCOSP
Caliber: 9 mm
Number of rounds: 19+1
Barrel length: 4.5"
Weight: 29 oz.
Features: Optical Sight Pistol System. Interch. Backstraps.
Recommended Scope: Trijicon RMR
Condition: New In Box
Price: $619 Credit, 607 Cash $30 Shipping by UPS Air

Contact us about this product.
The XD(M) OSP (Optical Sight Pistol) is based on Springfield's XD(M) full-size pistol and features a milled slide with three (3) adapter plates for direct attachment of a red dot optic with no need for custom modifications. The XD(M) OSP has a 4.5″ match grade, hammer forged barrel and forged steel slide with a black Melonite finish. The 7.6″ OAL provides plenty of sight radius for iron sight use. The XD(M) comes with dovetailed fiber optic front and white dot rear sights. Classic XD ergonomics features include the Mega-lock textured frame, ambidextrous magazine release, and grip safety. The 5.75″ height allows shooters to effortlessly assume a two-handed grip. It includes three backstrap panels to easily reconfigure the grip to small, medium, or large circumference. The XD(M) OSP model ships with two 19-round stainless steel magazines. The plate configurations support popular optics such as, but not limited to: #1 Plate – Vortex Venom, Burris FastFire 2, Burris FastFire 3; #2 Plate – Leupold DeltaPoint, Leupold DeltaPoint Pro, JPoint Sights; #3 Plate -Trijicon RMR. A matching cover plate provides a seamless slide surface when optics aren't present. A perfect size that balances fast target acquisition with precision. Shooters who value fast sighting and precision can have it all with Springfield Armory's XD(M) OSP.