THE GUN ROOM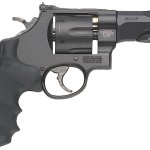 See full-sized image.
Status:
In Stock as of August 14, 2020
Category: Handguns
Brand: Smith & Wesson
Keywords: 45 ACP, Center, Performance, Ranch, Revolver, Smith, Thunder, Wesson
Manufacturer SKU: 170316
Caliber: 45 ACP
Number of rounds: 6
Barrel length: 4"
Weight: 31 oz.
Features: Black Scandium/ Stainless Steel. Tactical Rail. Adj. Sight.
Condition: New In Box with Thunder Ranch Soft Case and DVD!
Price: $1,219 credit, $1,195 cash! $30 Shipping UPS Air

Contact us about this product.
Who said that revolver lovers could not benefit from new technologies? The Thunder Ranch is available in the hard hitting and affordable 45 ACP and features single /double action, 4″ barrel, interchangeable gold bead front sight, adjustable white outline rear sight, synthetic grip, Scandium Alloy frame, stainless cylinder and matte black finish. Also the Thunder Ranch Defense revolver can handle .45 ACP ammunition in either full or half moon clips and .45 Auto Rim ammunition in speed loaders. It is equipped with a removable Picatinny rail under the barrel, and has the Thunder Ranch logo etched into the frame. Thunder Ranch gun bag and defensive revolver DVD are included!
PLEASE CLICK ON PICTURES FOR MORE RESOLUTION!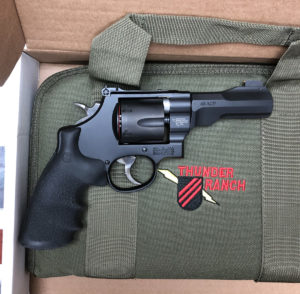 See full-sized image.
Status:
In Stock as of August 14, 2020
Category: Rifles
Brand: Ruger
Keywords: 300 Blackout, American, Ranch, Ruger, threaded
Manufacturer SKU: 6968 (Manufacturer Link)
Caliber: 300 Blackout
Number of rounds: 5+1
Barrel length: 16.1"
Weight: 5.9 lbs.
Features: FDE, Rail. Marksman Adjustable Trigger. Threaded.
Recommended Scope: Trijicon ACOG 300 Blackout or Aimpoint T-1 or T-2
Condition: New in Box!
Price: $399 credit, 391 cash! $30 Shipping

Contact us about this product.
The perfect "pig exterminator" that can double as a great deer rifle. In the revolutionary 300 Blackout that can deliver the quietest shots in 30 caliber using subsonic ammo and a suppressor or "308 lite" smacking performance with Supersonic loads!
The Ruger American Ranch rifle features an ergonomic, lightweight flat dark earth composite stock that blends a classic look with modern forend contouring grip serrations The Marksman Adjustable Trigger offers a crisp release with a pull weight that is adjustable between 3-5 lbs. The one-piece, three-Lug 70 degree bolt provides ample scope clearance. The bolt also utilizes a full diameter bolt body and dual cocking cams for smooth, easy cycling from the shoulder. The threaded barrel is cold hammer-forged, resulting in ultra-precise rifling that provides exceptional accuracy, longevity and easy cleaning. The 300BLK model has the 30 caliber standard 5/8″-24 thread pattern. Rotary magazine fits flush with the stock and offers the smooth feed that has become the hallmark of Ruger rotary magazines. Picatiny Rail comes installed for maximum flexibility in optics.