THE GUN ROOM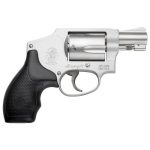 See full-sized image.
Status:
In Stock as of April 17, 2021
Category: Handguns
Brand: Smith & Wesson
Keywords: 38 Special, 38 Spl, 38 Spl+P, Pro Series, Revolver, Smith, Wesson
Manufacturer SKU: 178042
Caliber: 38 Special or +P
Number of rounds: 5
Barrel length: 1 7/8"
Weight: 15.3 oz.
Features: Hidden Hammer. DAO. Supports + P Ammunition
Condition: New In Box
Price: $509 credit, $499 cash! $30 Shipping

Contact us about this product.
Smith & Wesson J-Frame revolver is designed to fire a full power round and is as simple and easy to use as it is reliable. The 642 Pro Series Airweight is a variation on the Model 42 Centennial Airweight that integrates the time-tested features of the original with modern advancements and competition specifications and features. This model is +P rated and has a snag-free enclosed hammer. It features a matte silver aluminum alloy frame and stainless steel barrel, cylinder, and black synthetic grip. It includes two moonclips.
PLEASE CLICK PICTURES FOR MORE RESOLUTION!