THE GUN ROOM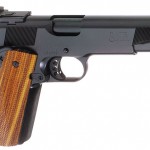 See full-sized image.
Status:
In Stock as of August 12, 2020
Category: Handguns
Brand: Les Baer Custom
Keywords: 45 ACP, Baer, Les, Les Baer, Premier II, Super-Tac
Manufacturer SKU: LBP2313 PREM II -ST (Manufacturer Link)
Caliber: 45 ACP
Number of rounds: 8+1
Barrel length: 5"
Weight: 38.5 oz.
Features: Adjustable Night Sights. Ambi. DuPont Coating.
Condition: New In Box!
Price: $2,650 Free UPS 2nd Day Air Shipping

Contact us about this product.
Les Baer's Premier II© has become the industry standard to which all other factory or custom built 1911s are compared. The 5″ long Government Model is arguably the best single stack duty, defense or competition pistol you'll find in America — the best quality, the best value and the best performance. No wonder so many of them show up at IPSC Limited Class matches. The Premier II© is even guaranteed to shoot 3″ groups at 50 yards! Les Baer sold so many in the USA and abroad that the Premier II© has become the flagship of their line. It performs like a million bucks but it costs a whole lot less. In this Premier II© Super-Tac version Les Baer added a special tactical package including special night sights and a special finish to make it an ideal duty/tactical sidearm. Features include:
Baer NM steel frame, NM slide and NM barrel with stainless bushing • Slide fitted to frame • Double serrated slide • Low mount LBC adjustable rear sight and Baer dovetail front sight both fitted with tritium night sights • Lowered and flared ejection port • Tuned and polished extractor • Baer extended ejector • Baer checkered slide stop • Baer speed trigger with crisp 4 lb pull • Baer deluxe Commander hammer and sear • Baer beavertail grip safety with pad • Flat serrated mainspring housing • Beveled mag well • Polished feed ramp and throated barrel • Baer tactical style ambi safety • High checkered front strap @ 30 lpi • Pistol tuned for total reliability • Baer Premium Checkered grips • Deburred for tactical carry • DuPont® S coating on complete pistol for maximum corrosion resistance • (2) 8-round premium magazines – Caliber: .45 ACP!