THE GUN ROOM

See full-sized image.
Status:
In Stock as of January 25, 2020
Category: Rifles
Brand: Patriot Ordnance Factory
Keywords: 308, AR, Bronze, piston, POF, rifle, War Hog, Warhog
Manufacturer SKU: 01241
Caliber: 308 Win 7.62x51NATO
Number of rounds: 20+1
Barrel length: 16.5"
Weight: 8.4 lbs.
Features: PISTON. M-Lock Rail. Burnt Bronze!
Recommended Scope: Nightforce 2.5-10x42 or 3.5-15x50
Condition: New In POF Case!
Price: $2,599 credit, $2,547cash! $30 Shipping by UPS

Contact us about this product.
The War Hog can handle extreme environments. A rifle with tusks cut into the rail is reserved for the most dedicated of hunters

. 

It's for those born with the primal need to hunt, and who want to do it in style. SPECIAL VERSION ON BURNT BRONZE COLOR!
Of course, the tusk rail doesn't limit what you can do with the rifle, it's just one more way to connect with the game you hunt

. 

There is no better way to celebrate and commit to your love of hunting, no matter what the game is!
SPECS:
PART # 01241
UPC 847313012418
CALIBER 7.62 x 51mm NATO (.308 WIN)
CHAMBER E2 Dual Extraction Technology
ACTION Semi-auto, short-stroke gas piston system
WEIGHT 8.4 lbs / 3.81kg (empty)
BARREL 16.5" / 41.91cm match-grade nitride heat-treated
RIFLING 1:10, 5/8×24 barrel threads
LENGTH 39.0" / 99.06cm
FINISH Burnt bronze
GAS BLOCK 5-position adjustable
HANDGUARD 14.5" M-LOK MRR free-floating rail
MUZZLE DEVICE Triple port muzzle brake
TRIGGER 4.0 lb POF-USA EFP drop-in trigger system with KNS anti-walk pins
FURNITURE Luth-AR MBA stock, Mission First Tactical grip
ACCURACY MOA with proper ammo and shooter ability
FIRE CONTROL Gen4 billet lower receiver
Ambidextrous bolt release
Ambidextrous safety selector
Ambidextrous bolt catch
Ambidextrous magazine release
MAINTENANCE Remove gas plug to clean gas block and piston components without removing handguard. No tools required. Standard receiver/carrier group field strip procedures.
INCLUDES High phosphate nickel coated bolt carrier group and Chrome plated bolt, Magpul 20-round magazine and Teflon receiver tension screws
PLEASE CLICK PICTURES FOR HIGER RESOLUTION!

See full-sized image.
Status:
In Stock as of January 25, 2020
Category: Rifles
Brand: Ruger
Keywords: 223, 5.56 NATO, piston, Ruger, SR-556, Takedown
Manufacturer SKU: 5924 (Manufacturer Link)
Caliber: 223 Rem / 5.56 NATO
Number of rounds: 30+1
Barrel length: 16"
Weight: 7.1 lbs.
Features: Tool Free Barrel Dissasembly. PISTON. Keymod Rail. Backpack.
Recommended Scope: Aimpoint T-1/T-2 Trijicon MRO
Condition: New in Ruger Backpack!
Price: $1,649 credit, $1,616 cash! $30 Shipping

Contact us about this product.
BACK IN STOCK! THIS IS THE NEW 2016 VERSION (SKU 5924) WITH KEYMOD RAIL AND IMPROVED TRIGGER!
As usual Ruger comes with "a better mouse trap" re-inventing the popular AR-15 in the Ruger SR-556 TD. A Gas Piston driven AR-15 with a barrel that disassembles without tools and fit in a convenient (provided) backpack! Keymod Rail, 6-Position Stock and Folding Sights complement this innovative rifle! Takedown barrel is removed from the upper receiver by moving the slider bar towards the breech, rotating the barrel and pulling it free (no tools required). For installation, slide the barrel into the upper and twist until it locks. The takedown mechanism provides a repeatable point of impact.
Patented chrome-plated, two-stage piston with multi-stage regulator provides a cleaner, cooler running, reliable firearm with superior operating endurance. The two-stage piston provides a smooth power delivery stroke to the bolt carrier.
The Ruger® Elite 452™ AR-Trigger is a two-stage trigger that offers a smooth, crisp, 4.5 pound trigger pull. It features a full-strength hammer spring for consistent primer ignition and a lightweight hammer that enables a 30% faster lock time over standard MSR triggers.
Features front and rear folding iron sights. The front sight is both elevation- and windage-adjustable, allowing the zero to stay with the barrel when you swap it out.
Lower receiver is fitted with the Magpul® MOE grip and MOE SL collapsible buttstock on the mil-spec buffer tube.
Precision-rifled, chrome-lined, cold hammer-forged Mil-Spec 41V45 chrome-moly-vanadium steel barrel ensures accuracy and longevity.
A Ruger® flash suppressor is provided, and the 1/2″-28 threaded barrel allows for standard muzzle accessories to be installed.
Slim, lightweight Keymod handguard for reduced overall weight.
Also includes: convenient carry case; lock; three, 30-round Magpul® PMAG® magazines.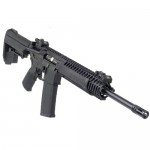 See full-sized image.
Status:
In Stock as of January 25, 2020
Category: Rifles
Brand: LWRC
Keywords: 223, AR, LWRC, piston, rifle
Manufacturer SKU: M6A2R5B16 (Manufacturer Link)
Caliber: 5.56 NATO / 223 Rem
Number of rounds: 30+1
Barrel length: 16"
Weight: 7.3 lbs
Features: Quad Rail. High Quality Sights. Match Barrel. PISTON.
Condition: New In Box
Price: Please Call

Contact us about this product.
The M6A2™ rifle is a standard carbine with  a 16 inch barrel lengths in 5.56mm NATO. The M6A2™ rifle is ideal for those who utilize optical sights as it employs a low- profile gas block. There is no A-frame front sight to obscure the field of view of the optical device. The M6A2™ rifle also features a longer midlength free float rail system with a removable return-to-zero top. Any M4 MIL Std 1913 accessory can be mounted to the rail, and because the rail has a monolithic profile, you can bridge devices from the receiver to the rail seamlessly. The longer rail also affords more 1913 "real estate" to mount your accessories.