THE GUN ROOM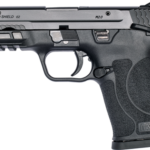 See full-sized image.
Status:
In Stock as of December 1, 2020
Category: Handguns
Brand: Smith & Wesson
Keywords: 2.0, 9mm, EZ, M&P, M&P9, Pistol, Shield, Smith, Wesson
Manufacturer SKU: 12436 (Manufacturer Link)
Caliber: 9mm
Number of rounds: 8+1
Barrel length: 3.75"
Weight: 23 oz.
Features: Thumb and Grip Safeties. 2x 8rd magazines. EZ loading.
Condition: New In Box
Price: $449 Credit. $440 Cash $30 Shipping!

Contact us about this product.
NOTE: ALL OUR GUNS FOR SALE ARE NOT SUBJECT TO THE RECENT S&W EZ RECALL!
Maximum safety and punch and a very compact package! Smith and Wesson has perfected their popular M&P9 Shield in this EZ Model 2.0 easier to load and with both grip and thumb safeties! An extremely slender and safe gun for use in pockets or purses; we recommend this gun if you have problems racking the slide of compact guns and if you want to be 100% certain that it will not fire with a bullet in the chamber unless you wanted to.
PLEASE CLICK ON PICTURE FOR MORE RESOLUTION!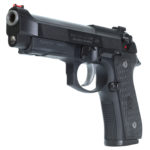 See full-sized image.
Status:
In Stock as of December 1, 2020
Category: Handguns
Brand: Beretta
Keywords: 92, 92E, 9mm, Beretta, Elite, Langdon, LTT, Pistol, rail, Tactical
Manufacturer SKU: LTT-92E-TJNP3
Caliber: 9 mm
Number of rounds: 15+1
Barrel length: 4.7"
Weight: 34.8 oz.
Features: Trigger Job. NP3 Coating on moving parts. G10 VZ/LLT grips
Condition: New In Box
Price: $1,439 credit, 1,410 cash! $30 Shipping by UPS Air

Contact us about this product.
A very hard to get premium Beretta. Do you always liked the Beretta 92 Platform but were whishing for a high performance version? this is you pistol:
The Beretta 92 Elite LTT, built in partnership with Ernest Langdon of Langdon Tactical, is the 'Ultimate 92 Package', incorporating many features including the Vertec/M9A3 slide and M9A1 frame. The Vertec/M9A3 slide features front cocking serrations, G-Model decocker, stainless barrel with target crown, solid steel guide rod, and a beveled rear slide. It also uses a dovetailed fiber optic front sight and square notch serrated rear sight. Its M9A1 frame features a Langdon exclusive radiused trigger guard, stainless steel trigger, checkering on the front and back strap, and a skeletonized hammer. The Elite LTT also features ultra thin VZ/LTT G10 grips, beveled magazine well, D model hammer spring, flush main spring cap, and an oversized magazine release button. This model comes with an LTT Trigger Job that comes with a 13# chrome silicon hammer spring. It also comes with a NP3 finish on all metal parts except frame, slide, and barrel.
PLEASE CLICK ON PICTURES FOR MORE RESOLUTION!
Next »