THE GUN ROOM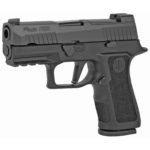 See full-sized image.
Status:
In Stock as of July 14, 2020
Category: Handguns
Brand: Sig Sauer
Keywords: 320, 320XC, 9mm, P320, Romeo Ready, Sauer, Sig, Sig Sauer, X-Compact
Manufacturer SKU: 320XC9BXR3R2
Caliber: 9 mm
Number of rounds: 15+1
Barrel length: 3.6"
Weight: 25.3 oz.
Features: X-Ray Night Sight. RMR ready. 15 rounds!
Condition: New in Box!
Price: $629 Credit, $616 Cash! $30 Shipping by UPS Air

Contact us about this product.
New Model – 2020! Ergonomics and performance have become the standard of the P320 XSeries. Now, all of these features are available in an compact size. The P320 XCompact features a completely redesigned modular polymer XSeries grip with a reduced fastback carry cut and a low-profile internal magwell. With the extended beavertail and high undercut trigger guard, the XCompact offers ultimate comfort and concealability and improved recoil control. The 3.6″ barrel and XSeries slide with enhanced serrations come equipped with the X-Ray3 day/night front sight with rear night sight plate assembly. The XCompact is fully compatible with the ROMEO1PRO reflex optic and comes with two 15rd magazines. The P320 XCompact is the ultimate balance of form and function and redefines what compact pistols should be.
PLEASE CLICK PICTURES FOR MORE RESOLUTION!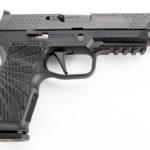 See full-sized image.
Status:
In Stock as of July 14, 2020
Category: Handguns
Brand: Wilson Combat
Keywords: 9mm, BATS, Combat, P320, Sig, WCP320, Wilson
Manufacturer SKU: WCP320F9BATS (Manufacturer Link)
Caliber: 9mm
Number of rounds: 17+1
Barrel length: 4.7"
Weight: 29.2 oz.
Features: Enhanced Version, please read specs!
Condition: New In Wilson-SIG box!
Price: $1,419 Credit. $1,391 Cash, $30 UPS Air Shipping

Contact us about this product.
NEW FROM WILSON COMBAT! Wilson WCP320 9mm Full Size with BATS enhancement
Wilson Combat gunsmiths and engineers have completely reworked a SIG SAUER® P320 chassis and unfinished SIG manufactured slide into our ideal version of a high performance, perfected striker-fired pistol.
Using the all-new Wilson Combat SIG P320 grip module, our in-house re-machined slide and Wilson Combat performance battle sights, the Wilson Combat Optimized WCP320 will become the new standard in hard-use, striker-fired handguns. Our modifications have tailored and tuned the 320 platform for precision tactical pistol shooting.
This robust, fast handling pistol wears our Wilson Combat engineered polymer grip module. This newly designed and manufactured grip has enhanced traction, smoother reloading, improved pointablity and superb recoil control in dynamic shooting. This grip turns an already solid platform into an ergonomic shooting machine.
The slide has been machined with the Wilson Combat X-TAC pattern for improved manipulation under stress. The front and rear cocking serrations, as well as the slide top, wear this signature Wilson Combat pattern. The stainless steel slide and chromoly barrel wear the most advanced black DLC (Diamond-like-Carbon) physical vapor deposition finish available. This finish has chromium and tungsten underlayers for long lasting corrosion and abrasion resistance.
On this model the SIG SAUER® flat-faced XFULL trigger is further enhanced by Wilson Combat gunsmiths with Grayguns custom trigger parts.
SPECIFICATIONS
Wilson Combat P320 Carry Grip Module (Choice of Black or Tan)
Wilson Combat X-TAC P320 Slide with Machine Bevels
Black DLC Finish on Slide/Barrel
X-TAC Pattern Front and Rear Cocking Serrations
X-TAC Pattern on Slide Top
Carry Cut
Wilson Combat Logo on Slide
Wilson Combat Battlesight with Red Fiber Optic Front Sight
SIG factory magazine release
SIG factory Slide Stop
SIG P320 X-Full Size Steel trigger
2 17rd X-Series Magazines
9mm caliber only
Action Tune – Grayguns SIG Sauer P320 Competition Trigger System with Straight Trigger Pad and Beveled magazine well
Rail for mounting light or laser
Special serial number range with WC prefix
PLEASE CLICK IMAGES FOR MORE RESOLUTION AND CHECK VIDEO BELOW!

See full-sized image.
Status:
In Stock as of July 14, 2020
Category: Handguns
Brand: Sig Sauer
Keywords: 9mm, Legion, P320, Sauer, Sig, X-Five, X5
Manufacturer SKU: 320X59LEGIONR2 (Manufacturer Link)
Caliber: 9mm
Number of rounds: 17+1
Barrel length: 5"
Weight: 43.5 oz.
Features: Please watch video!
Condition: New in Box
Price: $919 Credit Card. $30 Shipping by UPS Air

Contact us about this product.
NEW MODEL! Top of the line and the highest performance version of the whole P320/M17/M18 Sig Sauer line! The new flagship of the P320 platform brings the perfect balance of added weight and features that results in one of the best shooting pistols in the market. The P320 XFIVE Legion is the ultimate handgun for the serious shooter. The weight was increased to 43.5oz thanks to the innovative TXG tungsten-infused grip module. This new product is the first of its kind in the firearms industry with the weight of steel and the flex of polymer, reducing muzzle flip by up to 50%. The trigger pull of the XFIVE Legion is up to 30% lighter with the new skeletonized trigger, which increases shooting speed and accuracy. The recoil system has been upgraded to use a solid steel guide rod and a 14lb 1911-style spring, with an additional 12lb spring included. The signature Legion Gray finish comes standard, as well as Legion markings on the sight plate and on all three of the Henning Group® anodized aluminum basepads. All of these new features coupled with the removable magwell & grip weight, Romeo1PRO optic-ready slide, 5" bull barrel, and Dawson Precision® fiber optic adjustable sights catapults the P320 XFIVE Legion ahead of the competition and sets a new standard for all pistols.
PLEASE CLICK ON PICTURES FOR MORE RESOLUTION!

See full-sized image.
Status:
In Stock as of July 14, 2020
Category: Handguns
Brand: Sig Sauer
Keywords: 320, 9mm, compact, P320, Sauer, Sig, threaded
Manufacturer SKU: 320CA9BSSTB
Caliber: 9 mm
Number of rounds: 17+1
Barrel length: 3.9"
Weight: 26 oz.
Features: Threaded Barrel. Night Sights. Interchangable Grips. Rail.
Condition: New In Box!
Price: $629 credit, $616 cash! $30 Shipping by UPS

Contact us about this product.
Finally here with factory threaded barrel! The P320 is a polymer-framed service pistol designed from the ground up with the input of law enforcement officers. The result is the most operator-safety focused striker duty pistol on the market today. Taking into account the concerns of military and police training officers, the P320 provides an enhanced level of safety not found on most modern service pistols. Unlike its competitors, the P320 does not require the operator to pull the trigger nor use a special tool to take-down the firearm for cleaning or routine maintenance. Featuring a modular grip frame and removable fire control assembly pioneered by Sig Sauer, the P320 is customizable to any hand size or duty requirement. The P320 can quickly be converted from a Full-size to a Carry pistol. Slide and barrel conversions allow the P320 to change between calibers and barrel lengths as well.  With a partially pretensioned striker, the P320 has a short, crisp trigger pull with a quick, pronounced reset right out-of-the-box. Featuring the Sig internal safety system, the P320 has no external safety or decocking lever to snag or hang up on the draw. SigLite night sights come standard, and the reversible magazine release makes the P320 completely ambidextrous. this unit is the "Compact" 3.9 inches version and comes with a factory installed threaded barrel!
Next »