THE GUN ROOM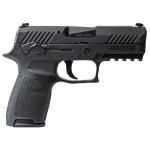 See full-sized image.
Status:
In Stock as of September 19, 2018
Category: Handguns
Brand: Sig Sauer
Keywords: 320, 320C, 320C9BSSMS, compact, Manual Safety, MHS, rail, Safety, Sauer, Sig, Striker
Manufacturer SKU: 320-C-9-BSS-MS (Manufacturer Link)
Caliber: 9mm
Number of rounds: 15+1
Barrel length: 3.9"
Weight: 27 oz.
Features: NIght Sights. Tactical Rail. MANUAL SAFETY
Condition: New In Box
Price: $569 Credit, $558 Cash! $30 Shipping by UPS Air

Contact us about this product.
New Model! Are you interested in one of the new striker pistols but are still concerned for the lack of a manual safety? The Sig 320C with Manual Safety is your answer! Winner of the Modular Handgun System (MHS) Army competition the Sig 320 offer a comfortable and extremely reliable self defense platform.
The P320 Compact offers a smooth, crisp trigger to make any shooter more accurate, an intuitive, 3-point takedown and unmatched modularity to fit any shooter and any situation. Its frame is ideal for target shooting, home defense and any scenario where shootability and sighted accuracy are of the highest priority. This modular, striker-fired pistol features a compact-size grip, compact length slide, and easy-to-acquire SIGLITE Night Sights. This version comes in 9mm with 15+1 rounds of capacity and two magazines. In addition to the base safety features of the 320 the striker and disconnect safeties this gun includes an AMBIDEXTROUS MANUAL SAFETY.