THE GUN ROOM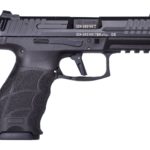 See full-sized image.
Status:
In Stock as of July 13, 2020
Category: Handguns
Brand: Heckler & Koch
Keywords: 9mm, heckler, HK, Koch, LW, LWG, Sub Compact, VP9
Manufacturer SKU: 81000461-BLK (Manufacturer Link)
Caliber: 9mm
Number of rounds: 15+1
Barrel length: 4.1"
Weight: 26.6 oz.
Features: Black Frame/Black slide. Customized by LWG!
Condition: New In Box!
Price: $899 credit, $881 cash! $30 Shipping by UPS Air

Contact us about this product.
NEW Limited Production Gun Customized by LWG! What better way to own the revolutionary Heckler & Koch VP9 (dubbed "the best mousetrap" – "better Glock than a Glock") that a Lazy Wolf Guns customized version including Wilson Combat sight, LWG Master Reduced Reset Action and LWG/HK Flat Trigger. This version has black frame and black slide by customers request! Limited lot exclusive for Lipsey's.