THE GUN ROOM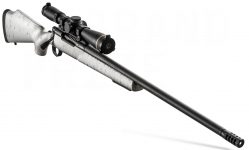 See full-sized image.
Status:
In Stock as of January 26, 2021
Category: Rifles
Brand: Christensen Arms
Keywords: 25th Anniversary, 6.5 PRC, carbon, Christensen Arms, Edition, Limited, Traverse
Manufacturer SKU: CA 801-10022-00
Caliber: 6.5 PRC
Number of rounds: 4+1
Barrel length: 24"
Weight: 7.3 lbs.
Features: Monte Carlo. Carbon Barrel. Threaded with MB. Sub MOA. Rail
Recommended Scope: Nightfforce ATACR or NXS. Swarovski Z8i or X5i
Condition: New in SKB Premium Hard Case!
Price: $2,599 $30 Shipping by UPS Ground!

Contact us about this product.
New Model – One Unit out of a 500 commemorative limited edition in the red hot 6.5 PRC caliber!
The Traverse elevates Christensen Arms backcountry rifle offerings with time-honored styling and performance. The Monte-Carlo carbon fiber composite gunstock gives it a classic feel, while the light target contour Christensen Arms carbon fiber wrapped barrel, stainless steel side-baffle brake, 0-MOA optic rail, and bottom picatinny rail ensure state-of-the-art operation. The Traverse weighs in starting at 7.3 pounds and is backed by the Christensen Arms Sub-MOA Guarantee.
Specifications:
Barrel:
Christensen Arms 416R Stainless Steel Aerograde Carbon Fiber Wrapped Barrel 24 inches 1:8 twist
Stainless Steel Radial Muzzle Brake (Removable) plus Stainless Steel Thread Protector 5/8-42
Match Chamber, Hand Lapped, Button Rifled and Free Floating
Action:
Picatinny Rail
Christensen Arms 416 Stainless Steel Billet
Receiver with Enlarged Ejection Port
Match-Grade Trigger (2.5-3.5 lb)
Billet Aluminum Machined Bottom Metal With Hinged Floor Plate
Improved Bolt Release. Enlarged Bolt Handle.
Internal Magazine, 4 Round Capacity
Bolt:
Twin Lug, Spiral Fluted. Nitride Treated. M16 Style Extractor. Fluted Bolt Knob. Dual Ejector
Stock:
Christensen Arms Carbon Fiber Composite Monte Carlo Style
Modified Beavertail Forearm, Raised Comb, Full Palm Swell with 4″ Bottom Picatinny Rail
Invar Pillars, Spot Bedding, Limbsaver Recoil Pad
Black with Grey Webbing
Special 25th Anniversary Features:
Commemorative Floor Plate.
Commemorative Bolt Knob.
Satin Metallic Stock Color.
Commemorative Challenge Coin.
Commemorative Grip Cap.
Commemorative SKB Rifle Case.
Special Edition Serial Number.
PLEASE CLICK FOR MORE RESOLUTION!

See full-sized image.
Status:
In Stock as of January 26, 2021
Category: Handguns
Brand: CZ - Dan Wesson
Keywords: 9mm, CZ, CZ-75, CZ75, Czechmate, Limited, Open
Manufacturer SKU: 91174 (Manufacturer Link)
Caliber: 9mm
Number of rounds: 20+1 or 26+1
Barrel length: 5.4"
Weight: 47.5 oz.
Features: IPSC Open or Limited ready. Please see description.
Recommended Scope: Provided C-more sight for Open Configuration
Condition: New In Box!
Price: $3,059 credit, $2,998 cash! $50 Shipping UPS Air

Contact us about this product.
TARGET OR USPSA/IPSC COMPETITION READY OUT OF THE BOX!
Arguably the most versatile and highest performance competition gun we ever had! The legendary and perennial competition winner CZ 75 TS Czechmate is based on a modified version of the CZ 75 TS frame. It comes with all parts necessary to run either in IPSC Open or Limited division (both in 9mm). The Czechmate comes configured for Limited division out of the box, so if you only want the highest possible performance 9mm pistol available you are done! It can be easily transformed for Open division competition with the compensator and C-More red dot mount and sight provided. The included compensator replaces the front sight adapter and the slide racker replaces the rears sight when switching from Limited to Open configuration. A big stick 26-round magazine and 3 20-round magazines are included in the CZ hard case.
Although CZ designed this pistol as an out-of-the-box race gun, it's far from being a one trick pony. The Czechmate is quite a value, coming bundled with various options to allow the owner to configure the pistol in different ways and grow the pistol as his/her own skills and interests growth. It arrives with an excellent set of iron sights, C-more reflex sight with mount, a spare barrel and a compensator. The compensator is designed for high-pressure loads in 9mm cases, duplicating the ballistics of the .38 Super cartridge and bumping the Czechmate into the Major caliber category for USPSA and IPSC competitions. The extra barrel allows the owner to quickly reconfigure the pistol for events with a different power factor.
Other bonus items in the package include four magazines, three that hold 20 rounds and one 26 rounds. This alone represents almost $300 of value with the current price of competition magazines. Additional parts include a loader, a spare extractor, an extra slide release, and four replacement slide release pins.
Other highlights:
C-more slide-ride non-click 6 moa dot
Ambidextrous slide racker
3 20-round magazines
1 26-round magazine
4 port compensator
Aluminum grips
Aluminum magwell
Competition hammer
2 slide stops with slide lock
4 slide stop pins without slide lock
Undercut trigger guard and beavertail for high grip
Carrying case
NOTE: When configured with the compensator, the CZ 75 TS Czechmate model is designed to use ammunition that meets the minimum requirements for IPSC major power factor. The minimum power factor for major in IPSC open class competition is 160.  Power factor is calculated by the following formula:
Power Factor = (bullet weight (in grains) X muzzle velocity (in feet per second))/1000
IPSC minimum power factor for major is 160. USPSA minimum power factor for major is 165
PLEASE CLICK PICTURES FOR MORE RESOLUTION!