THE GUN ROOM

See full-sized image.
Status:
In Stock as of November 20, 2018
Category: Handguns
Brand: Les Baer Custom
Keywords: 25th, 25th Anniversary, 45 ACP, Baer, Edition, Les, Les Baer, Limited, Ranch, Thunder
Manufacturer SKU: 2305-TR-25 (Manufacturer Link)
Caliber: 45 ACP
Number of rounds: 7+1
Barrel length: 5"
Weight: 40 oz.
Features: Please Read Specs!
Condition: New in Box!
Price: $2,519 Free UPS 2nd Day Air Shipping!

Contact us about this product.
A Limited Edition (this is number 32 of only 250 to be produced) of the pistol that trained our trainers! The Especial Edition Les Baer Custom Thunder Ranch 1911 25th Anniversary! Thunder Ranch is one of Americas most highly respected firearms training facilities. And Clint Smith, Thunder Ranch Director, is among the most accomplished and well known trainers in the shooting sports world. The fact that Thunder Ranch is now celebrating its twenty-fifth anniversary speaks volumes about the high level of success enjoyed by Thunder Ranch and by its legions of graduates which includes law enforcement, military and security professionals as well as serious self defense adherents. So it's only natural that Clint Smith would work with Les Baer Custom, America's premier custom 1911 maker, to produce a special Limited Edition pistol to pay homage to Thunder Ranch's twenty-five years of success.  Only 250 of these Limited Edition pistols will be sold, all with special serial numbers with a "TRXXV" (Thunder Ranch 25) prefix. They feature Les Baer's signature precision engineering and attention to detail as well as the most  popular understated yet high performing parts and features that have helped make the other Thunder Ranch 1911s offered by Les Baer among our most popular models because of their ease of use and complete dependability. Features of this unique pistol include:
45 ACP Caliber • Baer steel NM frame • Baer steel NM slide with front and rear serrations • Slide fitted to frame • Baer NM barrel with stainless match bushing -• LBC deluxe fixed combat rear sight with tritium inserts • Baer dovetail front sight with  tritium insert • Lowered and flared ejection port • Baer checkered slide stop • Baer extended ejector • Baer extended tactical safety • Baer aluminum match trigger • Baer deluxe Commander hammer and sear • Crisp 4 lb. pull • Baer tuned extractor • Baer beavertail grip safety with pad • High checkered front strap at 30 lpi • Flat checkered  mainspring housing @ 20 lpi • Beveled magazine well • Polished feed ramp and throated barrel • Complete pistol rounded for tactical use • Blued finish on complete pistol • Deluxe standard thickness Thunder Ranch logo grips  • (3) stainless steel 7-round premium magazines • Special Thunder Ranch logo engraved on the slide • Special "TRXXV" serial numbers 001-0250. This unit is TRXXV032 Number 32 of 250!
PLEASE CLICK PICTURES FOR MORE RESOLUTION!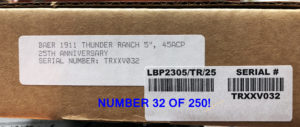 See full-sized image.
Status:
In Stock as of November 20, 2018
Category: Handguns
Brand: CZ - Dan Wesson
Keywords: 9mm, CZ, CZ-75, CZ75, Czechmate, Limited, Open
Manufacturer SKU: 91174 (Manufacturer Link)
Caliber: 9mm
Number of rounds: 20+1 or 26+1
Barrel length: 5.4"
Weight: 47.5 oz.
Features: IPSC Open or Limited ready. Please see description.
Recommended Scope: Provided C-more sight for Open Configuration
Condition: New In Box!
Price: $3,059 credit, $2,998 cash! $50 Shipping UPS Air

Contact us about this product.
TARGET OR USPSA/IPSC COMPETITION READY OUT OF THE BOX!
Arguably the most versatile and highest performance competition gun we ever had! The legendary and perennial competition winner CZ 75 TS Czechmate is based on a modified version of the CZ 75 TS frame. It comes with all parts necessary to run either in IPSC Open or Limited division (both in 9mm). The Czechmate comes configured for Limited division out of the box, so if you only want the highest possible performance 9mm pistol available you are done! It can be easily transformed for Open division competition with the compensator and C-More red dot mount and sight provided. The included compensator replaces the front sight adapter and the slide racker replaces the rears sight when switching from Limited to Open configuration. A big stick 26-round magazine and 3 20-round magazines are included in the CZ hard case.
Although CZ designed this pistol as an out-of-the-box race gun, it's far from being a one trick pony. The Czechmate is quite a value, coming bundled with various options to allow the owner to configure the pistol in different ways and grow the pistol as his/her own skills and interests growth. It arrives with an excellent set of iron sights, C-more reflex sight with mount, a spare barrel and a compensator. The compensator is designed for high-pressure loads in 9mm cases, duplicating the ballistics of the .38 Super cartridge and bumping the Czechmate into the Major caliber category for USPSA and IPSC competitions. The extra barrel allows the owner to quickly reconfigure the pistol for events with a different power factor.
Other bonus items in the package include four magazines, three that hold 20 rounds and one 26 rounds. This alone represents almost $300 of value with the current price of competition magazines. Additional parts include a loader, a spare extractor, an extra slide release, and four replacement slide release pins.
Other highlights:
C-more slide-ride non-click 6 moa dot
Ambidextrous slide racker
3 20-round magazines
1 26-round magazine
4 port compensator
Aluminum grips
Aluminum magwell
Competition hammer
2 slide stops with slide lock
4 slide stop pins without slide lock
Undercut trigger guard and beavertail for high grip
Carrying case
NOTE: When configured with the compensator, the CZ 75 TS Czechmate model is designed to use ammunition that meets the minimum requirements for IPSC major power factor. The minimum power factor for major in IPSC open class competition is 160.  Power factor is calculated by the following formula:
Power Factor = (bullet weight (in grains) X muzzle velocity (in feet per second))/1000
IPSC minimum power factor for major is 160. USPSA minimum power factor for major is 165
PLEASE CLICK PICTURES FOR MORE RESOLUTION!

See full-sized image.
Status:
In Stock as of November 20, 2018
Category: Rifles
Brand: Ruger
Keywords: 308, 308 Win, 308 Winchester, Limited, No. 1, Ruger
Manufacturer SKU: 21308 (Manufacturer Link)
Caliber: 308 Winchester
Number of rounds: Single Shot
Barrel length: 22"
Weight: 7.0 lbs.
Features: Gold Engraved. High Grade Wood Stock. Limet Edition.
Recommended Scope: Iron sights (included) or Swarovski Z3 4-12x50
Condition: New in Box!
Price: $1,799 Credit, $1,763 Cash $30 Shipping by UPS

Contact us about this product.
BACK IN STOCK – OUR LAST UNIT OF THIS LIMITED EDITION! The ultimate American Classic Rifle the Ruger No. 1 in 308 Winchester. With a gold engraved receiver and high grade wood stock. A precious collectible!
PLEASE CLICK PICTURES FOR MORE RESOLUTION!


See full-sized image.
Status:
In Stock as of November 20, 2018
Category: Rifles
Brand: Cobalt Kinetics
Keywords: 223 Rem, 556 NATO, B.A.M.F., Cobalt, Edge, Kinetics, Limited, White, Winter
Manufacturer SKU: EBS16WE (Manufacturer Link)
Caliber: 223 Rem and 556 NATO
Number of rounds: 30+1
Barrel length: 16"
Weight: 7.6 lbs.
Features: Please read description!
Recommended Scope: Nightforce 2.5-10x42 or Swarovski Z8i 1-8x24
Condition: New in Cobalt Kinetics Case!
Price: PLEASE CALL!

Contact us about this product.
LIMITED EDITION NUMBER 5 OF 100! We are very excited of carrying the new Cobalt Kinetics high performance AR-15s that are taking the market by storm. We usually refer to customers about our LWRCs as "The Cadillac" of the ARs and about our H&K as "The Mercedes Benz" amongst AR-15s. Consider Cobalt Kinetics "The Ferrari" of ARs. A combination of striking design and looks with innovation (6 patents pending) and high performance features that makes them the choice gun for 3-Gun competitions or other high performance situation.
This model of the Striking BAMF (Billeted Aluminum Modern Rifle) BAMF – EDGE was produced as a numbered limited edition. It comes in Winter White color and Black Barrel and Buffer Tube. Cobalt guns are chambered in what is now named "223 WYLDE" that is a short way of saying that the unit will work perfectly with either 223 Remington or 556 NATO bullets. One of the most noticeable innovations of this rifle is the dual Forward Assist that doubles as an ambidextrous double bolt drops. Hit the double drop from either end and the bolt slams home! This makes for a truly ambidextrous rifle, particularly considering the safety and magazine catch are ambi as well. But probably the feature that the buyer will appreciate the most will be its gold High Performance trigger that is better than anything we tried before. We designated one unit of the Cobalt Kinetics BAMF EDGE as a "Store Demo & Range Unit" so feel free to come to the store and feel it in your hands!
 (PLEASE CLICK FOR MORE RESOLUTION)

The B.A.M.F. EDGE WINTER EDITION FEATURES

Pro Muzzle Brake
Pro Hand Guard
Patent Pending Performance Buffer System
ATC AR Gold Trigger
Billet Grip Develeped by our 3 Gun Team
16" Match Grade Barrel
Light Weight Bolt Carrier Group
Adjustable Gas Block
Caliber: .223 Wylde
Controls Ambidextrous:
Charging Handle
Dual Drop Bolt Release
56-Degree Safety Selector
Ambi Mag Release
Extended Odin Mag Release
Threaded Pins
Upper and Lower Reciever:
Precision Machined 7075 Billet-Aluminum
Custom Mated Pairs
Beveled Mag Well
Detachable Trigger Guard
Nickel Boron BCG-Light Weight Bolt Carrier Group
Threaded Pins
Barrel: 16" Match Grade Barrel 416R Stainless Steel
Adjustable Gas Block
Hand Guard:Precision Machined 7075 Billet -Aluminum
Free Floating
M-lok
Cobalt Pro Compensator
Grip:Billet Grip Develeped by our 3 Gun Team
Trigger:ATC AR Trigger
Butt-Stock: Cobalt Kinetics Rifle Stock